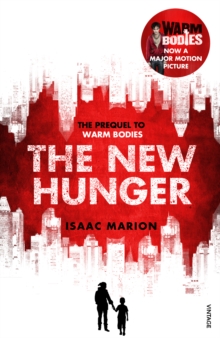 The New Hunger (The Warm Bodies Series) : The Prequel to Warm Bodies
Paperback
Description
The Guardian called Warm Bodies 'the zombie novel with a heart'; Audrey Niffenegger said 'Warm Bodies is an unexpected treat', and Stephenie Meyer eagerly looked forward to the next book.
Here it is: the prequel to Warm Bodies, released to coincide with the major film adaptation from the producers of Twilight, starring Teresa Palmer and Nicholas Hoult. Julie Grigio drives with her parents through the crumbling wastelands of America - a nightmarish family road trip in search of a new home. A few hundred miles away, Nora Greene finds herself the reluctant, terrified guardian of her younger brother when her parents abandon them in the not-quite-empty ruins of Seattle. In the darkness of a forest, a dead man in a red tie opens his eyes.
With no memory of who or what he is, he must unravel the grim mystery of his existence - right after he learns how to think, how to walk, and how to satisfy the monster howling in his belly... Two warped families and a lonely monster. Unknown to any of them, their paths are set to cross in a startling encounter that will change the course of their lives - or deaths - forever. Talk to Isaac on Twitter, Instagram, Facebook, Tumblr, Snapchat, and isaacmarion.com
Information
Format: Paperback
Pages: 192 pages
Publisher: Vintage Publishing
Publication Date: 24/10/2013
ISBN: 9780099587729
Free Home Delivery
on all orders
Pick up orders
from local bookshops
Reviews
Showing 1 - 3 of 3 reviews.
Review by elliepotten
16/06/2015
I read this during the Dewey's 24-hour readathon, and it was the undisputed high point of the day. I absolutely loved <i>Warm Bodies</i> when I read it early last year, but I didn't really expect that much from this prequel. I WAS WRONG. If anything, I maybe liked it even BETTER than <i>WB</i>, because it has all the wonderful writing and endearing characters and horribly compelling zombieness, only WITHOUT the wacked-out ending, and WITH the squee-inducing fact that you know how these characters interact later and it makes everything meaningful. I haven't 'happy-eeked' so much since I read Rainbow Rowell's <i>Attachments</i>. It's amazing that Marion can make me love M and R this much when they eat brains, y'know? I loved every page.
Review by DarkFaerieTales
16/06/2015
Review courtesy of Dark Faerie Tales.Quick & Dirty: When the end of the world comes, staying alive is the only thing that matters, but it takes more than food and shelter to make it from one day to the next.Opening Sentence: A dead man lies near a river, and the forest watches him.The Review:I haven't read Warm Bodies but after reading this novella I might actually be inclined to do so. Marion paints an extremely depressing view of a post apocalypitc world, but it is very realistic which makes it a tad terrifying. His vivid descriptions of deserted streets littered with dead bodies coupled with the intense detail he gives to the decaying bodies makes it easy to see all this carnage the moment I close my eyes. I enjoyed the parallel adventures of R, a newly risen zombie; Julie, a 12-year old travelling with her realist military father and her optimistic mother; Nora and her kid brother Addis, a dynamic pair crafted of a teenage girl forced to grow up too fast and a young boy, struggling not to be changed by the dismal and terrifying world.With only 140 pages, Marion manages to carve deep back stories for characters I understand were a little lacking in Warm Bodies. It is easy to see that R doesn't want to become a zombie and he fights with all his might to avoid it. I enjoyed seeing the internal struggle between basic instinct tugging him towards food and his moral compass reminding him that what he is trying to do is bad. I like Marion's depiction of zombies a lot more than other versions I have read because he actually plays off the fact that these creatures used to be human. They aren't just brain-dead corpses trotting around killing people, well, they are but they don't start off that way which is awesome. I loved how R kept having these deep and somewhat profound glimpses of thought and then forgot them just mere seconds later. It was both maddening and compelling to see if he could actually fight the virus plaguing his mind.Julie's was probably the least interesting story out of the three. Considering the circumstances, she has it the easiest because she still has both her parents to travel with and they are able to drive around in a truck. They have guns and ammo and more importantly food. The only real struggle here is in Julie herself. She is only 12 years old, but she has been forced to grow up rapidly. She understands she has to kill or be killed and there is no way around it. Marion manages to keep her young though through the eyes of her mother, Audrey, who constantly tries to get her daughter to play little imagination games like a normal child. Julie plays along but having her father put a gun in her hand and have her shoot someone in the face makes playing pretend very difficult.Sixteen-year-old, Nora and her six-year-old brother, Addis have the most terrifying journey. Abandoned by their parents, Nora is forced to struggle not only to keep them alive, but she is also trying to keep Addis innocent. She does her best to shield him from reality, but admits that she can only hide him from so much. Addis, to his credit, seems to understand what is happening but manages to keep hope alive somehow by finding joy in the little things like swimming in a park fountain even though there are bodies scattered all over the place. Addis provides a little bit of a break from the weight of this book, I think.I enjoyed reading this book alone, but I'm sure I will appreciate it even more when I read Warm Bodies.Notable Scene:"I need to go to the bathroom," she says, and stands up. The music has shifted to something modern, one of those new pop songs Addis and his friends used to listen to back in D.C. It murmurs and clangs, slow and dark, androgynous vocals doubled note for note by a mournful viola. It gives her goosebumps, and she makes a note to skip it on her way back. She never thought she'd be out of touch with youth culture by age sixteen. The darkness came so abruptly her tastes never had a chance to adjust, and now it all scares her. She retreats into the past, to the records Auntie Shirley used to play while they built Legos in the living room. Some Ella or Billie or Frank would be nice right now, despite Addis's protests. There are worse feelings than boredom. She pushes into the women's restroom and leans against the sink,m fighting for composure. She looks in the mirror at her tired red eyes. She sees a large mound in the corner of the room, heaving slowly under a tablecloth.FTC Advisory: Zola Books provided me with a copy of The New Hunger. No goody bags, sponsorships, "material connections," or bribes were exchanged for my review.
Review by booklove2
27/08/2015
Here is a short and not so sweet one! I loved Warm Bodies, the only thing I DIDN'T love about Warm Bodies was the storyline that followed Shakespeare's Romeo & Juliet. So here is a chance in alternating chapters to see a little bit more of the story of R, Julie and Nora (and Nora's little brother). The book still takes place post-apocalypse... this isn't the story of their happy lives before everything went to hell but it does take place before they meet. I was surprised to see that R started out a zombie with a lot of his brain still working.... it certainly makes zombies a little more real, sad, and frightening. THINKING zombies?! I also love the idea that the zombies can't stop moving because they start to get rigor mortis. This isn't a kids book despite the page length. Pretty violent... things that even The Walking Dead avoids. It seems a lot happens here in such a short book even through splitting the book into three narratives. I love Marion's writing style and as much as I love the zombies, I'd love to see what else he can do. I'd say this is a nice expansion on the back stories of these characters.