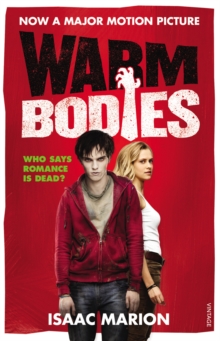 Warm Bodies (The Warm Bodies Series)
Paperback
Description
'R' is a zombie. He has no name, no memories, and no pulse, but he has dreams.
He is a little different from his fellow Dead. Amongst the ruins of an abandoned city, R meets a girl.
Her name is Julie and she is the opposite of everything he knows - warm and bright and very much alive, she is a blast of colour in a dreary grey landscape.
For reasons he can't understand, R chooses to save Julie instead of eating her, and a tense yet strangely tender relationship begins. This has never happened before. It breaks the rules and defies logic, but R is no longer content with life in the grave.
He wants to breathe again, he wants to live, and Julie wants to help him.
But their grim, rotting world won't be changed without a fight...
Information
Format: Paperback
Pages: 256 pages
Publisher: Vintage Publishing
Publication Date: 01/01/2013
Category: Fantasy
ISBN: 9780099583820
Other Formats
Paperback from £5.59
EPUB from £4.99
eAudiobook MP3 from £7.20
Free Home Delivery
on all orders
Pick up orders
from local bookshops
Reviews
Showing 1 - 4 of 4 reviews.
Review by landslide
16/06/2015
*I received this book from NetGalley in exchange for an honest review*I must start by admiting that zombies were never really my thing. Seriously, of all the supernatural creatures, zombies were at the bottom of my list. So I never really paid much attention to this book. Until I saw the movie trailer and I realized it wasn't a Twilight with zombies as I first thought, but it was something else and it had humor. So, when I saw it was available for request on NetGalley, I couldn't resist requesting it. And I was super happy when my request was accepted!"Warm Bodies" takes place in a post-apocalyptic world, where zombies exist, and the living survive in communities living in stadiums. We never find out what happened, cause zombies have no memory and the living don't really talk about the past. We see the world through R's eyes, a nameless zombie who can only remember his name's initial, and with no memory, that lives a normal zombie existence: walks around the airport where he "lives" with the other zombies, tries to have conversations with his best friend M (unsuccessfully, since they both have the inherent speaking difficulty of being a zombie) and, when hunger strikes, he goes into town to hunt.It's in one of these huntings that everything changes. The group of zombies attacks a group of young people, R eats the brain of a young man, and something very strange happens. R seems to absorb the young man's memories and, without having time to think about it, he does the unthinkable, he saves Julie, the girl the young man loved. From that moment on, R begins to change, to develop feelings for Julie, and protects her at all cost from everything and everyone, and he starts to think that, just because he is dead, it shouldn't mean he can't live...I liked how the relationship between R and Julie evolved. Unlike what I initially thought, it wasn't creepy at all, on the contrary, it was quite sweet. In a world where humans have lost hope, for the carrier of said hope to be a living-dead was a brilliant irony. And the author excelled at demonstrating how sometimes it's people who commit the biggest attrocities, while the "monsters" are capable of holding on to their humanity.The book is filled with memorable quotations, the kind that leaves us thinking about them and of how true they are. So make no mistake about it, this is not a light romance between a living and a living-dead, it's a treaty on humankind and on how it's important to keep it even when all hope seems lost.I'm curious to read the sequel because, not only do I want to know what happens next, I'm also curious to know what happened to make the world the way it is and why did the zombies appeared (I think that's covered in a prequel but I'll have to look it up). And now I really want to see the movie!
Review by SysterSara
16/06/2015
Very entertaining "Romeo & Juliet-love story" set in a zombie-filled postapocalyptic America./SysterSara
Review by ElleLainey
16/06/2015
I feel a little cheated with this book. I knew it was part of a series when I started reading it but that doesn't stop me being disappointed that it's over.To be plain: I loved it! The five stars are for character, plot, execution, emotion and romance factor. I would give each aspect 5 stars on their own, and collectively together.I loved R and his relationship with M. I loved how his feelings for Julie progressed, his 'children' and the clear emotion that R struggled to understand. I really liked his speech and the fact that he couldn't read, it only added to the belief that he was a zombie who had forgotten everything from his old life and all those old memories. I love Julie's history, her relationship with her father. I particularly love Nina and the ending with M, I always thought they would be great together. You can really 'see' the world Marion has portrayed for the Stadium, the situation they're all in, the depths they've sunk to and all the things they're had to suffer, put each other through and put their children through in their fight.Overall, I loved Warm Bodies. I totally fell in love with the unlikely hero R and cannot wait to read the rest of the books in this series.
Review by AmyJ96
16/06/2015
The first half was better than the second, but the whole thing was still brilliant. Some parts were surprisingly funny.