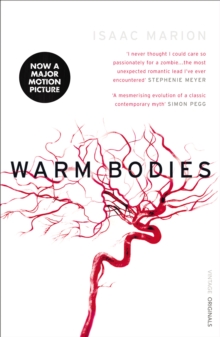 Warm Bodies (The Warm Bodies Series)
Paperback
Description
'R' is a zombie. He has no name, no memories, and no pulse, but he has dreams.
He is a little different from his fellow Dead. Amongst the ruins of an abandoned city, R meets a girl.
Her name is Julie and she is the opposite of everything he knows - warm and bright and very much alive, she is a blast of colour in a dreary grey landscape.
For reasons he can't understand, R chooses to save Julie instead of eating her, and a tense yet strangely tender relationship begins. This has never happened before. It breaks the rules and defies logic, but R is no longer content with life in the grave.
He wants to breathe again, he wants to live, and Julie wants to help him.
But their grim, rotting world won't be changed without a fight... Talk to Isaac on Twitter, Instagram, Facebook, Tumblr, Snapchat, and isaacmarion.com
Information
Format: Paperback
Pages: 256 pages
Publisher: Vintage Publishing
Publication Date: 01/10/2010
ISBN: 9780099549345
Other Formats
Paperback from £5.59
EPUB from £4.99
eAudiobook MP3 from £8.00
Free Home Delivery
on all orders
Pick up orders
from local bookshops
Reviews
Showing 1 - 5 of 32 reviews.
Previous | Next
Review by titania86
16/06/2015
R is a zombie. He doesn't remember his full name or what he used to do or anything about his life as a human. Like all the others in the zombie overrun world, he just shuffles around and mechanically goes through the motions in the barren post-apocalyptic world. Every day is basically the same and goes by in a bland gray blur except for the occasional dream he has. That is, until he goes with a pack of zombies to feed and eats a teenage boy's brain. This in itself is nothing special, but he is suddenly flooded with the boy's memories, something he never had himself. He looks at Julie, the boy's girlfriend, and saves her from the other zombies after feeling the boy's love for her. R's decision to save Julie ultimately changes him in ways he never thought possible. After he takes her to the plane he lives in, they start their own awkward and strangely sweet relationship, much to the chagrin some of the other zombies. Can the living ever truly coexist with the living dead?This is the best zombie book I have ever read. Ever. Everything about this book is exceptional and goes above and beyond what other zombie novels have done. The novel starts off as many zombie novels do: with the world a barren wasteland covered in zombies whose only interest in humans is in their brains. None of them are really self aware or have any care for what happens except for R. At first, R is much like the rest of them. He has a zombie wife and zombie children, but they aren't really a family. He is only able to communicate in sparse syllables and shrugs. After he meets Julie, everything changes. He learns to speak and move more fluidly and she even teaches him to drive a car. Besides the physical improvements, he has mental and emotional ones. He treats Julie like his girlfriend. He protects her from the other zombies and strives to make her happy. He feels love for her and eventually stops wanting to eat brains at all. Instead of being satisfied being a dead automaton, he strives to regain his lost humanity. R is the only zombie I can think of that is the hero of a novel and develops as a character more than most human characters I've read. Warm Bodies, beneath its zombies, is ultimately about us. The typical zombies are those that have forgotten how precious life is. They go around their daily lives mechanically and just care about mundane things like money and their jobs. The zombies in the novel go through what they would as humans, such as eating, being with their families, and having sex, but it's a ghastly parody of actual human life. Even though it's funny, it still shows us that we shouldn't take our lives for granted and that we forget how important love really is.Warm Bodies is a book I would recommend to everyone I know and many that I don't. The eloquent language, clear voice, and relatable themes make this book reach people beyond the zombie genre. The ending was absolutely perfect and I really hope that Isaac Marion keeps writing because I will definitely be reading whatever comes next.
Review by madcurrin
16/06/2015
I've been devouring a number of novels lately, much like a ravenous zombie, and 'Warm Bodies' is by far the tastiest. Right from the first lines ("I am dead, but it's not so bad. I've learned to live with it,") this is one of those wonderful books that is easy to start and hard to stop. An amazing debut, not perfect but what novel ever is? It's lyrical, beautiful, action packed, philosophical and grotesque all in one package. Read it now so you can act all smug when the Hollywood version comes out.
Review by drachenbraut23
16/06/2015
"My friend 'M' says thie irony of being a zombie is that everything is funny, but you can't smile, because your lips have rotted off. " "It does make me sad that we've forgotten our names. Out of everything, this seems to me the most tragic. I miss my own and I mourn for everyone else's, because I'd like to love them, but I don't know who they are" This was a beautiful, fluffy and highly enjoyable read. I had this book already on my TBR pile for quite some time and only read it now because the movie is coming out in February. Usually, our perception of zombies is as such that, well, they are dead, ugly, scary, obviously can't think and that they are driven by a basic need to feed on other humans. Okay, that's what we usually believe when picking up a zombie novel. However, this didn't happen in this one. Here, we meet R a zombie who lives with others of his kind at an abandoned disused airport. R lives in one of the aero planes and collects music, he loves to ride the escalator and muses about his existence, and he feeds on other humans but doesn't enjoy it. He just seems to be a different kind of zombie.None of us are particularly attractive, but death has been kinder to me than some. I'm still in the early stages of decay. Just the grey skin, the unpleasant smell, the dark circles under my eyes. I could almost pass for a Living man in need of a vacation. "Now I'm just standing here on the conveyor. Along for the ride. I reach the end, turn around, and go back the other way. The world has been distilled. Being dead is easy. After a few hours of this, I notice a female on the opposite conveyor. She doesn't lurch or groan like most of us. Her head just lolls from side to side. I like that about her. That she doesn't lurch or groan. I catch her eye and stare at her." On one of their feeding raids, he meets Julie, rescues her and that subsequent changes his existence, ahem, I honestly don't want to use the term life here as he is a zombie. "Eating is not a pleasant business. I chew off a man's arm, and I hate it.Of course if I don't eat all of him, if I spare his brain, he'll rise up and follow me back to the airport, and that might make me feel better. I'll introduce him to everyone, and maybe we'll stand around and groan for a while." This book was quite a surprise as I didn't know what to expect from a zombie romance, but with all its puns the story undeniably delivered a considerable amount of entertainment. However, as it is such a small book it is also read fairly comfortable in one night session."I erupt from the dark, crushing tunnel into a flash of light and noise. A new kind of air surrounds me, dry and cold, as they wipe the last smears of home off my skin. I feel a sharp pain as they snip something, and suddenly I am less. I am no one but myself, tiny and feeble and utterly alone. I am lifted and swungthrough great heights across yawning distances, and given to Her. She wraps around me, so much bigger and softer than I ever imagined from inside,and I strain my eyes open. I see Her. She is immense, cosmic. She is the world. The world smiles down on me, and when She speaks it's the voice of God, vast and resonant with meaning, but words unknowable, ringing gibberish in my blank white mind.
Review by PersephonesLibrary
16/06/2015
It's my pleasure to introduce "R" to you. This sympathetic zombie, who can only remember the first letter of his name, struggles with his way of life. He'd prefer not to kill humans, but only their meat gives him enough power to live… or to stay half-dead at least. On a hunting trip he meets Julie and he takes her to his home. There's only one problem: She's alive…When I first heard about this so-called "zombie romance", I was afraid that the author made another Twilight, just with zombies. All-clear: It's really not that bad. Although there are some similarities, the differences are decisive: We don't have to follow the story of a self-conscious, whiny and obsequious narrator – "R" is sensitive and self-ironic and our loving couple meets at eye level. I like the dark humour, the puns and the light language. There were also some thoughts you could call "philosophical" in the broader sense (very broad!), e.g. the importance of having a name.What I didn't like about the novel was especially the ending: It was very kitschy and honestly I didn't understand totally what happened to the Boneys. (Another – more evil - kind of zombies, even worse than the Fleshies like "R".) Also the "Romeo & Juliet"-factor was a little bit much – did Marion really have to reunite "R"(omeo?) and Julie(t) at a balcony?But as "R" is so amiable, I will keep that brain candy and read it again some times.
Review by tim_halpin
16/06/2015
What a gem!This book has all the hallmarks of a cult classic. It's a great adventure story, really exciting, it plays on genres in fun and inventive ways, but crucially it does more than that, it speaks to our world too, it has a message, a warning, and lots of hope, but doesn't ram it down your throat.Having said that, I don't recommend this if you like to read whilst eating, if you have delicate sensibilities, dislike swearing, or are averse to the idea of meticulously described zombie sex.