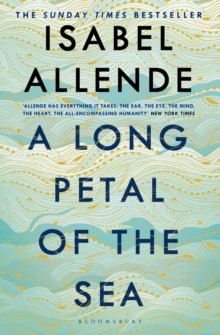 A Long Petal of the Sea
Hardback
Description
The Sunday Times bestseller'One of the strongest and most affecting works in Allende's long career' New York Times Book Review'A defiantly warm and funny novel, by somebody who has earned the right to argue that love and optimism can survive whatever history might throw at us' Daily TelegraphSeptember 3, 1939, the day of the Spanish exiles' splendid arrival in Chile, the Second World War broke out in Europe. Victor Dalmau is a young doctor when he is caught up in the Spanish Civil War, a tragedy that leaves his life - and the fate of his country - forever changed.
Together with his sister-in-law, the pianist Roser, he is forced out of his beloved Barcelona and into exile.
When opportunity to seek refuge arises, they board a ship chartered by the poet Pablo Neruda to Chile, the promised 'long petal of sea and wine and snow'.
There, they find themselves enmeshed in a rich web of characters who come together in love and tragedy over the course of four generations, destined to witness the battle between freedom and repression as it plays out across the world. A masterful work of historical fiction that soars from the Spanish Civil War to the rise and fall of Pinochet, A Long Petal of the Sea is Isabel Allende at the height of her powers. 'An epic that starts in 1939 and spans decades and continents . . . A masterful work of historical fiction about hope, exile and belonging, and one that sheds light on the way we live now' Independent.co.uk 'Full of ambition and humanity' Sunday Times 'Allende knows that all stories are love stories, and the greatest love stories are told by time' Colum McCann 'Allende's style is impressively Olympian and the payoff is remarkable' Guardian 'Epic in scope, yet intimate in execution' i
Information
Format: Hardback
Pages: 336 pages
Publisher: Bloomsbury Publishing PLC
Publication Date: 21/01/2020
ISBN: 9781526615909