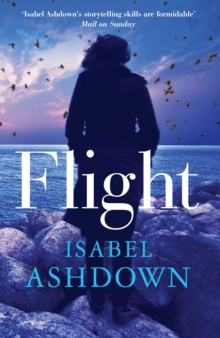 Description
When Wren Irving's numbers come up in the first ever national lottery draw, she doesn't tell her husband, Rob.
Instead she quietly packs her bags, kisses her six-month-old daughter Phoebe goodbye, and leaves.
Two decades later, Rob has moved on and found happiness with their oldest friend, Laura.
Phoebe, now a young woman, has never known any other life.
But when Rob receives a mysterious letter, the past comes back to haunt them all.
With their cosy world thrown into turmoil, Laura sets out to track Wren down and discover the truth about why she walked out all those years ago.
Information
Format: Paperback
Publisher: Myriad Editions
Publication Date: 21/05/2015
ISBN: 9781908434609
Free Home Delivery
on all orders
Pick up orders
from local bookshops
Reviews
Showing 1 - 2 of 2 reviews.
Review by nicx27
16/06/2015
Flight is my first Isabel Ashdown, but it won't be my last. It tells the story of Wren, Laura and Robert who are good friends. Wren and Robert get married and have a baby, but one day Wren gets lucky in the first National Lottery draw in 1994 and just simply walks away from her life. The story is told from the perspective of each of the key players and looks at the events that led up to Wren's walkout, and what has happened since.I found Flight to be a very readable and enjoyable book, with key themes of motherhood, friendship and abandonment. I liked the characters and the understanding and depth with which they were written about. Towards the end something that I believed was obvious within the story surprised me with a clever twist that I never saw coming. I'm always impressed when an author can achieve this. An excellent read and I think reading groups would find much to discuss in Wren's actions.
Review by DubaiReader
27/08/2015
Friendship, motherhood and desertion.This book is beautifully written, with well described characters and gradually revealed secrets, but it's a bit short on plot.The question at the heart of the novel is why Wren would have left her husband and six-month-old daughter to go and live a solitary life on the Cornish Coast?It's hard to say more without giving spoilers, but there were some aspects of the story that didn't quite work for me. Having said that though, it was a compulsive read and well deserving of its four stars.Rob and Laura have been best friends since primary school and never had any need for anyone else until they meet Wren in the canteen of their secondary school. She is immediately absorbed into their small 'gang' and the three eventually decide to share accommodation at university. Laura feels no resentment when her two best friends decide to get married, but it is what happens after that that leaves both her and Rob reeling in shock.Personally I feel that many reviewers have given too much away, so I'll say no more about the story-line, except what we learn in the first chapter; that Wren is one of the very first lottery winners, enabling her to make decisions that would not otherwise have been possible.There is a lot of back-story involved and I did find the transitions a bit jarring at times, but on the whole this book flowed well. Most of my niggles were things that started to annoy me after I had finished and was thinking back over the narrative.Probably a good book group read, as not everyone will react to events in the same way.Also read by Isabel AshdownGlasshopper (5 stars)