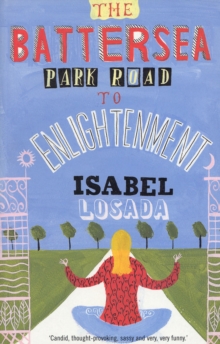 The Battersea Park Road to Enlightenment
Paperback
Description
'You know those people who always radiate cheerful optimism?
Nauseating aren't they? I want to become one of those. I want to find out how to live life completely, abundantly, joyfully, stupidly.
This is my quest. Enlightenment.' So proclaims Isabel Losada, Starbucks addict, exercise allergic and self-confessed sceptic as she sets out on the road to enlightenment.
Beginning with an Insight seminar where hundred people with name badges discuss their 'inner beauty', Isabel journeyed through a gruelling course of 'Rolfing' nude Goddess workshops, a weekend of tantric sex ('Yes!
Yes! Yes!') and a reincarnation session, not to mention a spot of colonic irrigation.
Irreverent yet open-minded, funny and always honest, "The Battersea Park Road to Enlightenment" is also moving and ultimately illuminating.
For anyone who has ever been tempted to dip a toe in the waters of self-discovery, Isabel Losada plunges you straight in.
Free Home Delivery
on all orders
Pick up orders
from local bookshops
Reviews
Showing 1 - 3 of 3 reviews.
Review by wyvernfriend
16/06/2015
Fun read about one woman's journey through some of the new-age therapies.
Review by Seajack
16/06/2015
Powell's in Portland had this book on their Travel shelves, though with one exception (final chapter at a faeries seminar on the Isle of Man), the book is "set" at various seminars and holistic treatment facilities in England; the "travel" aspect is metaphorical/spiritual. Funny in a Bridget Jones way, but not silly. Losada evolves as she tries out different modalities (tantric sex, rolfing, etc.), allowing her readers to learn more about them. A kudo to Powell's (or the Universe!) for putting the book where I'd be sure to notice!
Review by Lenaphoenix
16/06/2015
Battersea Park Road is Isabel Losada's wry memoir of the various self help/spiritual programs she undertook in her efforts to become a happier and more peaceful person. Unlike some of the other self-help memoirs that have come out recently, however, Losada is writing about a journey she took as an organic part of her life rather than something that seemed like a good experiment for a book proposal, so right away she gets bonus points for that. Though Losada considers herself a skeptic, it didn't take long for her to be swept away by the power of the workshop experience. Over the course of the book, she pushes the edge of her "comfort zone" in programs like Insight Seminars, a goddess workshop, Sky-Dancing Tantra, past-life regression, anger release, NLP, and angles. Like everyone who has ever dropped a lot of cash on a weekend workshop, Losada is pretty motivated to find the positive in her experiences. Though she doesn't hesitate to criticize the aspects she dislikes, she also loudly sings the praises of many of her programs. Having traveled much of the same road as Losada in my earlier years, I feel this book is a pretty accurate reflection of what walking the workshop road is like. Each program offers the excitement of new insights and experiences, yet the effects wear off so quickly it's not long before a person is drawn to the next guru-du-jour who promises to change one's life in a weekend. Since it's been a while since I've been on that path, what was most interesting to me was the opportunity to step back and observe the kind of mindset I used to have. It was fascinating for me to notice how willing Losada was to try to fit herself into whatever particular belief system she was being presented with—though she doesn't really fit the classic description of a codependant, she spent six weeks attending meetings designed to convince her that she was. In addition, I had never before realized just how masochistic self-help can be. In the chapters on rebirthing and past-life regression, Losada doesn't seem to question the belief that pushing one's self to generate the most traumatic emotional experience possible is a good thing. I remember when I used to think that, too, and I'm really glad I no longer do. There are some genuinely funny moments in this book, and Losada offers enough real insight into her journey to make it worth reading. How much a person enjoys it will likely depend a lot on their relationship to the world she's writing about. At the end, she talks about what she learned, and speaks about the importance of accepting herself as she is with all her flaws. I'm glad she's come to a place where she is able to do that, but I can't help wondering if she realizes that the entire workshop industry is built on people doing exactly the opposite.