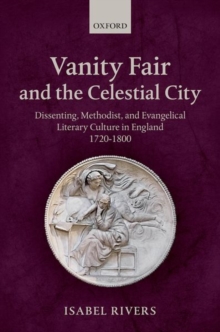 Vanity Fair and the Celestial City : Dissenting, Methodist, and Evangelical Literary Culture in England 1720-1800
Hardback
Description
In John Bunyan's The Pilgrim's Progress, the pilgrims cannot reach the Celestial City without passing through Vanity Fair, where everything is bought and sold.
In recent years there has been much analysis of commerce and consumption in Britain during the long eighteenth century, and of the dramatic expansion of popular publishing.
Similarly, much has been written on the extraordinary effects of the evangelical revivals of the eighteenth century in Britain,Europe, and North America.
But how did popular religious culture and the world of print interact?
It is now known that religious works formed the greater part of the publishing market for most of the century.
What religious books were read, and how? Who chose them? How did they get into people's hands? Vanity Fair and the Celestial City is the first book to answer these questions in detail.
It explores the works written, edited, abridged, and promoted by evangelical dissenters, Methodists both Arminian and Calvinist, and Church of England evangelicals in the period 1720 to 1800.
Isabel Rivers also looks back to earlier sources and forward to the continued republication of many of these works well into the nineteenth century.
The first part is concerned with the publishing anddistribution of religious books by commercial booksellers and not-for-profit religious societies, and the means by which readers obtained them and how they responded to what they read.
The second part shows that some of the most important publications were new versions of earlier nonconformist, episcopalian, RomanCatholic, and North American works.
The third part explores the main literary kinds, including annotated bibles, devotional guides, exemplary lives, and hymns.
Building on many years' research into the religious literature of the period, Rivers discusses over two hundred writers and provides detailed case studies of popular and influential works.