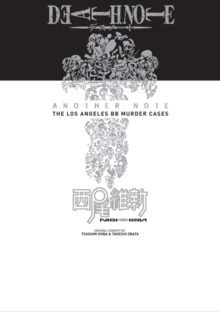 Death Note: Another Note (Novel)
Hardback
Description
There's a serial killer on the loose in Los Angeles and the local authorities need help fast.
For some reason the killer has been leaving a string of maddeningly arcane clues at each crime scene.
Each of these clues, it seems, is an indecipherable roadmap to the next murder.
Onto the scene comes L, the mysterious super-sleuth.
Despite his peculiar working habits - he's never shown his face in public, for example - he's the most decorated detective in the world and has never tackled a cased he hasn't been able to crack.
But this time he needs help. Enlisting the services of an FBI agent named Naomi Misora, L starts snooping around the City of Angels.
It soon becomes apparent that the killing spree is a psychotic riddle designed specifically to engage L in a battle of wits.
Stuck in the middle between killer and investigator, it's up to Misora to navigate both the dead bodies and the egos to solve the Los Angeles BB Murder Cases.
Information
Format: Hardback
Pages: 176 pages
Publisher: Viz Media, Subs. of Shogakukan Inc
Publication Date: 01/02/2008
Category: Comics and Graphic Novels
ISBN: 9781421518831
Free Home Delivery
on all orders
Pick up orders
from local bookshops
Reviews
Showing 1 - 5 of 11 reviews.
Previous | Next
Review by lostinmyownlibrary
16/06/2015
Another Deathnote dropped in the human world? No. But dont be disappointed. This book centers around F.B.I. agent Naomi Misora and the world's greast detective L. The only real connection with the manga besides the main characters is the killer is said to have the eyes of the shinigami. The Los Angeles BB Murder Cases - three deaths and the police have no leads or suspects. It takes ten victims usually before L gets involved but this killer has left clues only L or those working for L could possibly figure out. So, the battle of wits begins!! I enjoyed this book for the puzzles and twists the author threw into the story. Reading about L before all the events of the Deathnote manga series was great. I really hope the people with the rights to the characters allow more books to be written with L as the main character.
Review by Capfox
16/06/2015
The Death Note series was definitely an enjoyable one, and while I'm not generally a fan of tie-in novels, when I got this one as a present, I was fairly pleased, although I'll admit it was partly because this is a very pretty book. I have to say, though, that I should have aimed my expectations at the tie-in novel level, rather than getting them raised, because this one wasn't really all that impressive.The plot deals with L, frequently cited in the book as the century's greatest detective, interacting with one of the minor characters in the series, Misora Naomi, trying to solve a series of murders in Los Angeles. The whole thing sounds like a good idea: why not show L at work on a normal case set before the more supernatural one in the manga? A normal mystery story should work well here.Unfortunately, the plot was sorta blah in the end (puzzles that generally, you can't solve for yourself, because you don't get all the information), and the story was really only barely a fair-play mystery. The characters aren't really all that interesting, either; you don't get much from them that wasn't in the series itself. The style is too knowing, with lots of reference to manga and novels and such, and written in what feels to me to be a very fan-fiction kind of way. It probably was that way in the original Japanese, as well, so I'm not even going to blame the translator for it.All in all, you do get some fun out of the story if you really liked Death Note and wanted to see someone else play with the setting, but this one's not worth it. You can probably get fan-fiction this length for free... although then the book itself wouldn't be so pretty.
Review by neverwondernights
16/06/2015
As a fan of Death Note, I was happy that there would be a little more to the series, however one thing to keep in mind is that this is NOT written by the original creators. I did not like the beginning; it seemed too fan-like, a little boring, and not as complicated and intelligent as Tsugumi Ohba could have done. Something that irked me the entire way through was that this was written by Mello. I will also state now that there is no actual Death Note in the novel. That was a little midge in the story because the title of the book is called Another Note. It got my expectations up, that is all. If you have not read Death Note, it would be best not to read this until you have read the original manga series, as there are several references to various spoilers and information acquired from it. An odd complaint, for me, is that the book itself smelled. This wasn't because of where I purchased it, but rather the type of ink (and paper) they used in publication. As it is published by a magazine and manga company, Viz, they used a certain ink used in colored (cheap) magazines. I liked the overall layout of the book, the paper was nice and smooth, they gave you a useful ribbon bookmark, and the cover is nice and simple. However the ink made it hard to curl up and read. For the first few days, I had to be in a certain position. Some may not be as particular about scent as I am, but for those that are, remember that when you first purchase it, it will give off an unpleasant odor (unless you like cheap magazine ink).
Review by TPauSilver
16/06/2015
As translations go, it's not a bad translation. Played in the style of a typical detective mystery, this book is an account of the case on which Naomi Misori came into contact with L on before the events of the main story. Some unintentional hilarious moments come with the naming (Backyard Bottomslash might not have the connotation they were going for) and the fangirls getting into the translation. (L - "I'm a top [...] and aggressive top. [...] I have never once been submissive").Other then that, the novel was pretty standard. Narrated, supposedly, in the style of a narrator who was not present at the fact but told the story later, but not carried of as the narrator knows far too many details for this role. Some of the surprises are easy to work out with only a little thought and the book often talks in circles, trying to come to obvious conclusions and actually confusing the matter more then it clarifies. That said, as a light read and a classic detective novel it's not bad. As already said, the translation is good, fluid, easy to read, and there are some good moments, intentional and unintentional. Just don't expect a great mystery, you don't have to be L to work this one out.
Review by ToxicMasquerade
16/06/2015
I was not in a hurry to read this, or even buy it. But, as I learned more about who B.B., Beyond Birthday, actually was, I couldn't wait to read it. Now, that I have red it, I hate that I waited!! I thought it was amazing. I feel in love with Beyond. He is a fabulous character, even though some people may not agree with me. I wish that he was actually in the Manga and Anime though. But, this book is a must read for Death Note fans!
Also in the Death Note series | View all