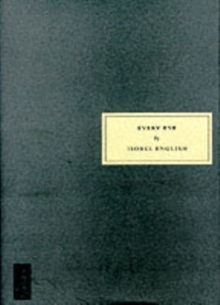 Information
Format: Paperback
Pages: 144 pages
Publisher: Persephone Books Ltd
Publication Date: 22/06/2000
ISBN: 9781903155066
Free Home Delivery
on all orders
Pick up orders
from local bookshops
Reviews
Showing 1 - 3 of 3 reviews.
Review by ms.hjelliot
16/06/2015
This is a gem of a book. The story of a woman on her belated honeymoon. From this start, we glean knowledge of her childhood and young womanhood in flashbacks. Her observations stunning and descriptions marvelously vivid. We are there, traveling in the train with her, arriving in Paris, Barcelona, Ibiza, slightly disheveled and trying to recall the language. The relationships and outlook, honest:"...at least we had the barren fields of our incompatibility between us, which made us better than strangers." "Quite soon the day is over, and we have fashioned it from its grey beginning into something iridescent and unique."
Review by birdsam0610
16/06/2015
Every Eye has the distinction of being the first Persephone book I have read. The Persephone books can be easily distinguished by their grey covers and lovely end papers, taken from the period in which the book was written. I do suggest looking at their website, but beware – you may fall in love with these beautiful books and want to collect them all!This book was a surprising library find for me – surprising because a) I'm in Australia, a long long way from Persephone Books and b) my library is generally not known for fiction other than very popular bestsellers and romances. Back to the book – the book contains an introduction by the author's husband, which sets the background of the book. The book is told in both the past and the present – the present being the protagonist's honeymoon with her younger husband and the past being a more unsuitable liaison as a younger woman. The past is triggered by Hattie learning about the death of her Aunt Cynthia as well as returning to Ibiza on her honeymoon. It can be a little difficult at first to work out if it's in the past or present (no changes of fonts here) but the book rolls along in its beautiful, gentle prose. It conjures beautiful images in a gentle manner and the reader slowly learns more about Hattie and her history all in good time.This is a short read but demands your attention to take in all that is going on.
Review by kaggsy
16/06/2015
This is a remarkably good novella. The writing is superb, the plotting excellent and the switches between past and present tense for the two strands of narration are handled extremely well. On top of that, the tale itself is a fascinating one and the descriptions are beautifully atmospheric. Add in a killer last line and I'd definitely recommend this book - I really enjoyed it.