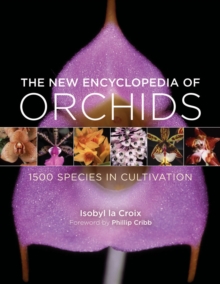 The New Encyclopedia of Orchids : 1500 Species in Cultivation
Hardback
Description
In this authoritative, detailed and carefully researched encyclopedia, more than 350 genera of cultivated orchids are included and 1500 species described.
Infinitely varied and hugely interesting, these strikingly beautiful plants are sumptuously illustrated with approximately 1000 photographs in a reference that no orchid lover can afford to be without.
Isobyl la Croix's broad knowledge of orchids is evident in this encylopedic account of the largest of all flowering plant families.
Her experience gained as a scientist, plant hunter and horticulturist, along with her deep passion for orchids, inform the plant selection and add depth to the plant descriptions.
The cultivation advice includes information about the orchid's native habitat including elevation, geography, and climate, that will significantly improve the chances of successful growth in the domestic environment.
Recent developments in DNA analysis have led to some surprising findings with regard to the relationships between orchids and the author has undertaken an extensive effort to bring all orchid names up-to-date to reflect the latest scientific thinking and taxonomy. From Acampe to Zygostates, no other serious reference approaches the depth and authority of this remarkable book.
Enthusiasts, collectors, and those starting out with orchids will value it for identification and rely on its authority whether researching the most familiar cypripedium or the most rarified angraecoid.
Information
Format: Hardback
Pages: 524 pages, 1015 color photos
Publisher: Timber Press
Publication Date: 01/08/2008
Category: Gardening: flowers
ISBN: 9780881928761
Free Home Delivery
on all orders
Pick up orders
from local bookshops