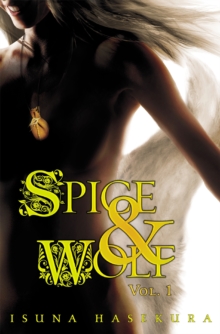 Spice and Wolf : Novel Vol. 1
Paperback
Description
The life of a traveling merchant is a lonely one, a fact with which Kraft Lawrence is well acquainted.
Wandering from town to town with just his horse, cart, and whatever wares have come his way, the peddler has pretty well settled into his routine-that is, until the night Lawrence finds a wolf goddess asleep in his cart.
Taking the form of a fetching girl with wolf ears and a tail, Holo has wearied of tending to harvests in the countryside and strikes up a bargain with the merchant to lend him the cunning of 'Holo the Wisewolf' to increase his profits in exchange for taking her along on his travels.
What kind of businessman could turn down such an offer?
Lawrence soon learns, though, that having an ancient goddess as a traveling companion can be a bit of a mixed blessing.
Will this wolf girl turn out to be too wild to tame?
Information
Format: Paperback
Pages: 208 pages, Integrated: 190, b/w drawings
Publisher: Little, Brown & Company
Publication Date: 21/01/2010
Category: Manga
ISBN: 9780759531048
Free Home Delivery
on all orders
Pick up orders
from local bookshops
Reviews
Showing 1 - 3 of 3 reviews.
Review by earthlistener
16/06/2015
The light novel version, of Spice and Wolf. I greatly enjoy this series.
Review by DQBunny
16/06/2015
Who would think that a series centered around economics would be appealing? Craft Lawrence is a traveling merchant in the Middle Ages in a land that is controlled by the Church and has done its best to squelch the pagan gods that were once worshipped. However, Lawrence comes face-to-face with one of these gods in the form of Horo - a wolf-god who just wants to return to her true home. The series features a fantastic chemistry between its leads and is very intelligent. It's not a quick read despite the fact that it's a light novel. You get the crash course in economics that many probably slept through in high school. It's a fun series, and the anime series is a great supplement to the novels. The first six episodes of the anime are adapted from this novel.
Review by yamagami
16/06/2015
I wanted to report that this book is now printed with the remade (photographic) art on a removable slipcover and features the original Japanese artwork under. I do, however, not know whether or not some online retailers might still have the old print (although the new print with the original art still says "First Edition").The remade artwork and all problems with acquiring the slipcover with the original art was the only thing holding me back from buying this book. Now I can finally have it in my collection. With the slipcover removed, of course.