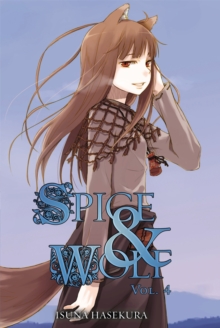 Spice and Wolf, Vol. 4 (light novel)
Paperback
Description
Continuing their journey north, Lawrence and Holo stop in the village of Tereo in hopes of finding a local abbey where they might uncover more information regarding the fate of Holo's ancient home, Yoitsu.
Soon after their arrival, though, the companions are caught up in a local dispute between Tereo and the neighboring town of Enberch that could cost Lawrence and Holo both their fortunes and their lives!
With the Wisewolf's help, can Lawrence devise a way to save an entire town from ruin - and his skin and that of his traveling companion in the process?
Information
Format: Paperback
Pages: 256 pages
Publisher: Little, Brown & Company
Publication Date: 28/06/2011
Category: Comics and Graphic Novels
ISBN: 9780759531086
Free Home Delivery
on all orders
Pick up orders
from local bookshops
Reviews
Showing 1 - 1 of 1 reviews.
Review by bakabaka84
16/06/2015
Probably my favorite book in the series so far. After getting a tip in Kumersun during the last book, Lawrence and Holo continue their search for information about Holos homeland in the small village of Tereo, where they were told of a monetarist that had collected books on the pagan gods. However not everything goes as planed when they are dragged into the local political/religious battle between Tereo and its neighbor the town of Enberch. Now Lawrence and Holo have to walk a fine line between the pagan residence of the Tereo while gaining the trust of the local Church priest and preventing the machinations of Emberch to make Tereo subservient to them. As the religious tensions play a main part of the story the Church is expanded and you also get to learn about the different pagan traditions. Hasekura also did a wonderful job weaving local politics with religious problems while also showing the dynamics between the small village and town as the village try's to balance their independence with the demand of the more powerful town. At the same time there is an interesting subplot about the insular nature of a small village and how a person can be ostracized.While in the 3rd book we see Lawrence confronting how important Holo is to him, in this one they both seemed to have formed a deeper bond and can read each others moods better. Although, Holo still can get the best of Lawrence most of the time in their lively banter. I really liked this growth for both Lawrence and Holo as even though I find the economic threads interesting the interactions between these two is really the strongest part of the series. Overall another good addition to the series that does some good world building and character growth.