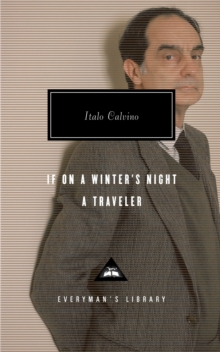 If on a Winter's Night a Traveller
Hardback
Description
Calvino's dazzling post-modernist masterpiece combines a love story, a detective story and a sardonic dissection of the publishing industry in a scintillating allegory of reading.
Based on a witty anaolgy between the reader's desire to finish the story and the lover's desire to consummate his or her passion, IF ON A WINTER'S NIGHT is the tale of two bemused readers whose attempts to reach the end of same book - IF ON A WINTER'S NIGHT by Italo Calvino - are constantly and comically frustrated.
THE ARABIAN NIGHTS of our day
Information
Format: Hardback
Pages: 254 pages
Publisher: Everyman
Publication Date: 20/05/1993
ISBN: 9781857151381
Other Formats
Paperback from £5.99
EPUB from £4.99
Free Home Delivery
on all orders
Pick up orders
from local bookshops
Reviews
Showing 1 - 5 of 5 reviews.
Review by P_S_Patrick
16/06/2015
This is a book like none other I have read, or anticipate that I will read in the future. The very book itself is woven round by the very words inside it, it refers to itself, is integral to it's own story, and confusingly at the same time not its own story, but that of other, seemingly unrelated stories. I was a bit overwhelmed on occasions, partly due to the pace, and partly due to the rapid succession of one story by another, or rather perhaps, the carrying on of one story from another, without the first ending, but things do clear up with a little ponderance. This is a clever book, and should be greatly enjoyed by those who take pleasure from reading. I was just a touch disappointed by the shortness of it, otherwise it would have been a 5*.
Review by DeFaoite
16/06/2015
I can remember exactly where I was when I started reading this book many years ago. The author skillfully teases you from the opening pages and amazes you with his cunning and style.
Review by TheAmpersand
16/06/2015
Or "Nine First Chapters In Search of a Narrative" Calvino's "If On a Winter's Night a Traveler" might be the thorniest, grandest, most ambitious post-everything meta-novel I've ever read. It's full of starts, stops, in-jokes and digressions, but in the end, it turns out to be an interesting, and perhaps even heartfelt, meditation on the act of reading. Indeed, even readers that would rather skip Calvino's philosophizing and theorizing might be able to identify with his characters' unquenchable desires to curl up with a good book and sink into an engrossing narrative. Both the author's descriptions of reading, which are sensuous to the point of decadence, and his semi-serious theorizing posit that escape through literature is one of life's most fundamental, and perhaps guiltiest, pleasures. Even though it sings the praises of readers and reading, "If On a Winter's Night" is a pretty difficult proposition. I started it three or four times before being able to read it through. Even the novel's "literary" chapters are stuffed with subtle connections, word games, and odd stylistic stratagems. Calvino seems to want to get his readers to slow down and think about the way that we read, to reconsider a process that most of us perform automatically and, in a sense, unthinkingly. He even describes the letters on the pages of his novel taking on the characteristics of the story they tell, almost becoming physical elements in the fictional universe that they're creating. Still, difficult as it is, the book is not without it's humor. "Winter's Night" sometimes recalls Thomas Pynchon in his loopy, conspiracy-minded mode, and the plot of Calvino's novel, if it can be called that, features dysfunctional publishing houses, female commandos, and secret agents all obsessed to the point of fanaticism with literary fiction. Still, it's obvious that Calvino has written these nine beginnings in order to further his discussion about literary theory and the art of reading, and many readers will, I fear, find them a bit stiff. I could blame his translator - the novel's own characters would - but I get the impression that Calvino's a better theorist than a storyteller. It's another sort of book entirely, but David Mitchell's "Cloud Atlas," which seems to have borrowed heavily from Calvino's bag of tricks, pulled the novels-within-novels trope off much more gracefully. At its close, the "Winter's Night" drifts towards a netherworld reminiscent, perhaps, of Borges, as the author asks some basic questions about what literature is trying to accomplish and why we, as readers, feel compelled to read it. The answers he comes up with a thought provoking and perhaps even inspiring. I'm glad I had the patience and fortitude to conquer this one.
Review by Helenliz
16/06/2015
I'm not sure what to make of this. To start with I thought it was trying to be too clever; addressing the reader as "you" and with the first line being "You are about to begin reading Italo Calvino's new novel, If on a winter's night a traveler." which did make me feeling that this book was going to be rather pretentious. But it grew on me. The story (told in alternate chapters) and the books that are read in the story do end up making some sort of sense. About mid-way I was a bit frustrated that the book chapters weren't written in a distinctly different tone from the intermediate chapters. Even the diary chapter reads in the same tone, similar language, style of writing and so on. But if they're written by different authors, surely the tone should differ. But by the end even that made a certain kind of sense. As an exercise it's very interesting. As an enjoyable read, I'm afraid it didn't work for me. I found it difficult to get immersed in something that contains the starts of 10 different books, but never gets to an end.
Review by dbsovereign
02/03/2016
One of those books that I had to force myself to keep reading because I kept asking myself, "what's the point." However, as experimental novels go, this is a blockbuster. It makes one question not only the nature of reality, but also one's own sanity. From Wikipedia: "This book is about a reader trying to read a book called _If on a winter's night a traveler_. The first chapter and every odd-numbered chapter are in the second person, and tell the reader what he is doing in preparation for reading the next chapter. The even-numbered chapters are all single chapters from whichever book the reader is trying to read." Sound confusing, well, it is!<br/><br/>