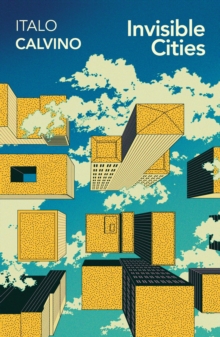 Invisible Cities
Paperback
Description
In Invisible Cities Marco Polo conjures up cities of magical times for his host, the Chinese ruler Kublai Khan, but gradually it becomes clear that he is actually describing one city: Venice.
As Gore Vidal wrote 'Of all tasks, describing the contents of a book is the most difficult and in the case of a marvellous invention like Invisible Cities, perfectly irrelevant.'
Information
Format: Paperback
Pages: 176 pages
Publisher: Vintage Publishing
Publication Date: 02/10/1997
ISBN: 9780099429838
Free Home Delivery
on all orders
Pick up orders
from local bookshops
Reviews
Showing 1 - 5 of 11 reviews.
Previous | Next
Review by tedmahsun
16/06/2015
A book that makes you think and reflect on imagination, the human condition, society and life using cities as a frame and guide. Also, Marco Polo is one cool dude.
Review by ParadigmTree
16/06/2015
This is the first book I have read by Italo Calvino. It popped up on my LT recommendations list, and being a bit of a city planning "nerd" (and interested in cities, in general), I was immediately intrigued. Happily I chanced upon a copy during my recent travels, and it became a perfect accompaniment for my trip.At its surface, Invisible Cities is a dialogue between the famed explorer Marco Polo and the legendary Emperor Kublai Khan. Polo describes cities that he has visited on his travels, either physically or psychologically fantastical, and all curiously possessing feminine names. However as the tale progresses Khan becomes less convinced that Polo has actually traveled to these places. The reader is suspicious as well, especially as anachronisms creep into the descriptions...The descriptions themselves are beautifully written, each intriguing and as well as self contained. The book is formatted into sections that open and close with dialogue between Polo and Khan, framing the descriptions of the different cities. The descriptions are also tied loosely to one another by their repeating titles: "Cities & Memory 1" or "Hidden Cities 4" for example.Calvino explores not only the idea of the city (what is it anyway?), but uses the city to play with our notion of how we interact with our environment (built or otherwise). Did we create the cities or did they create us?Along the same theme, the cities described seem to represent different parts of our psyches (at least to me). They probe at many aspects of the human experience such as: fear of death, weariness, love, and longing. At the same time, Invisible Cities explores broader dichotomies such as: permanence/impermanence; opulence/squalor; life/death; virtue/sin and truth/falsity. To me, reading Invisible Cities was comparable to having a glass of fine wine. If you are inclined, you could drink it in quickly and eagerly, enjoying its beauty and flavour on one level. However, for me to fully appreciate Invisible Cities, I found it was better to sip it slowly and let the story unravel its complexities and richness as I meditated on the imagery and ideas Calvino presented.
Review by Banoo
16/06/2015
Marco Polo describes the many cities he's visited to Kublai Khan. Between the city descriptions Polo and Khan talk. This is Invisible Cities. If you're looking for story, if you're looking for character, if you're looking for lost symbols conjured up by a certain Brown... you won't find it here. You will find wonderful ideas and beautiful descriptions of cities and people. This was a little book that required a slow reading to enjoy the dense writing of Calvino.One day I hope to look up at the city of Baucis and wave. <i>'After a seven days' march through woodland, the traveler directed toward Baucis cannot see the city and yet he has arrived. The slender stilts that rise from the ground at a a great distance from one another and are lost above the clouds support the city. You climb them with ladders. On the ground the inhabitants rarely show themselves: having already everything they need up there, they prefer not to come down. Nothing of the city touches the earth except those long flamingo legs on which it rests and, when the days are sunny, a pierced, angular shadow that falls on the foliage.There are three hypotheses about the inhabitants of Baucis: that they hate the earth; that they respect it so much they avoid all contact; that they love it as it was before they existed and with spyglasses and telescopes aimed downward they never tire of examining it, leaf by leaf, stone by stone, ant by ant, contemplating with fascination their own absence.'</i>
Review by AndrewBlackman
16/06/2015
I thought I would have liked this more than I did. I like most of Calvino's books, and in this one the writing is absolutely beautiful, the observations on cities are clever and insightful, and the structure is innovative. But somehow, for me, all of these ingredients didn't add up to a very rewarding whole.I think the problem was the lack of plot. The structure of the book is a series of one- or two-page descriptions of different imaginary cities, with occasional philosophical conversations between Marco Polo and Kublai Khan in between. Nothing happens, there is no progress, and nothing much is revealed about the characters. It's all a long intellectual game. The flights of fancy were certainly very impressive, but I kept finding that my mind was wandering as I read, and I had to go back and start at the top of the page, something that has rarely happened to me since the days of prescribed reading at school and university.I was reading quite late at night mostly, so maybe that was the problem, but again that is not normally an issue for me. If I like a book, I can concentrate on it even when I am dog tired. This one just failed to hold my interest, as much as I loved the premise, the writing and the ideas. The cities, as different as they were, just began to sound the same, and the descriptions became repetitive.I guess Calvino's point was to describe general attributes of the city by describing different specific cities that embody an aspect of it in the extreme – for example in Leonia people refashion their lives every day, throwing everything out and using new clothes, fresh sheets, etc. "So you begin to wonder if Leonia's true passion is really, as they say, the enjoyment of new and different things, and not, instead, the joy of expelling, discarding, cleansing itself of a recurrent impurity." This is a great insight, beautifully expressed, and the book is full of things like this. But there are no real people doing things.I suppose this book made me realise that while experimentation is great, and beauty and cleverness go a long way, the more prosaic basics like plot and character do go a long way.
Review by clfisha
16/06/2015
"Cities, like dreams, are made of desires and fears, even if the thread of their discourse is secret, their rules are absurd, their perspectives deceitful, and everything conceals something else."Like Scheherazade we find Marco Polo regaling Kublai Khan with tales of cities that he seen or imagined. At first there is no common language and so he mimes and uses props to spark the Khan's imagination to create his own cities but later this gradually shifts and Polo can spin his tales over chess.There is no plot, no characters, no static point in time yet it's utterly enchanting. This is a book to savour, to dip into and bathe in the lyrical, absurdly rich musings on Polo's cities. Themes are are openly stated with headings such as 'Cities and memory 2' or 'Cities and Signs 3' within these 55 tales we replay a myriad of ideas, explore our relationships with urbanity and visit many an inventive city. So we hear about the city that starts out to amaze but soon becomes mundane as through repetitive use our eyes are drawn down from the colourful flags and balconies to dirty streets and gutters and move on to an seemingly abandoned city made solely of water pipes and secretive glimpses of nymphs bathing in bathtubs and showers.It is a beautiful read, post-modern and surreal it maybe but it is also great fun