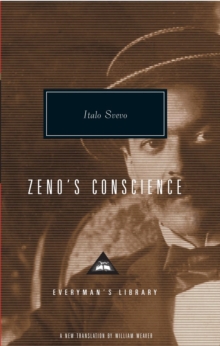 Zeno's Conscience
Hardback
Description
The modern Italian classic discovered and championed by James Joyce, ZENO'S CONSCIENCE is a marvel of psychological insight, published here in a fine new translation by William Weaver - the first in more than seventy years.
Italo Svevo's masterpiece tells the story of a hapless, doubting, guilt-ridden man paralyzed by fits of ecstasy and despair and tickled by his own cleverness.
His doctor advises him, as a form of therapy, to write his memoirs; in doing so, Zeno reconstructs and ultimately reshapes the events of his life into a palatable reality for himself - a reality, however, founded on compromise, delusion, and rationalization.
With cigarette in hand, Zeno sets out in search of health and happiness, hoping along the way to free himself from countless vices, not least of which is his accursed "last cigarette!" (Zeno's famously ineffectual refrain is inevitably followed by a lapse in resolve.) His amorous wanderings win him the shrill affections of an aspiring coloratura, and his confidence in his financial savoir-faire involves him in a hopeless speculative enterprise.
Meanwhile, his trusting wife reliably awaits his return at appointed mealtimes. Zeno's adventures rise to antic heights in this pioneering psychoanalytic novel, as his restlessly self-preserving commentary inevitably embroiders the truth.
Absorbing and devilishly entertaining, ZENO'S CONSCIENCE is at once a comedy of errors, a sly testimonial to he joys of procrastination, and a surpassingly lucid vision of human nature by one of the most important Italian literary figures of the twentieth century.
Information
Format: Hardback
Pages: 437 pages
Publisher: Everyman
Publication Date: 01/09/2001
Category: Classic fiction (pre c 1945)
ISBN: 9781857152494
Free Home Delivery
on all orders
Pick up orders
from local bookshops
Reviews
Showing 1 - 2 of 2 reviews.
Review by StevenTX
16/06/2015
Zeno's Conscience begins with a disclaimer by the narrator's psychiatrist stating that the story you are about to read was written by Zeno Cosini at the doctor's insistence as a form of treatment, but that it is full of lies as well as truths, and the doctor is publishing it as a form of revenge. With that bizarre introduction we embark on an autobiography built around five themes in Zeno's life: his battle to quit smoking, his father's death, his marriage, his mistress, and his business partnership. Each of these is, in its own way, a series of failures and embarrassments from which Zeno, nonetheless, manages to land on his own feet--at least in his own estimation.Zeno's character is outwardly unlikeable, but strangely lovable. He is a compulsive liar, weak-willed, lazy, unfaithful, impulsive, and selfish. Yet at the very same time he manages to be generous, loyal, and persistent. The question, of course, is: Is Zeno lying to us? What should we read between the lines? The psychiatrist says he is lying, but is it the psychiatrist who lies about Zeno because his patient refuses to fit the doctor's preconceived Freudian mold? The setting of the novel is noteworthy. It is Trieste, a city of mixed Italian, German and Slavic ethnicity which was, before 1918, part of the Austro-Hungarian Empire. At the end of the First World War it was ceded to Italy. Italo Svevo's real name was Ettore Schmitz, and the conflicts inherent in his Italo-German heritage is reflected in the personality of the characters as well as the setting.
Review by jwhenderson
16/06/2015
A gritty English version by Italophile Weaver (Open City: Seven Writers and Rome, 1999, etc.) resurrects one of the indispensable 20th-century novels: the work of a prosperous businessman (whose real name was Ettore Schmitz), it's a majestically ironic in-depth portrayal, in his own reluctant words, of its eponymous protagonist's ruefully unromantic struggles with his domineering father, then the querulous family into which he marries, as well as the ignoble ravages of adultery and aging, psychoanalysis and tobacco addiction. You can hear Flaubert's pugnacious mandarin contempt for all things bourgeois, and Dostoevsky's furious comic voice in "Svevo's" measured revelations of the slow erosive effects of quotidian disillusionment and passivity. A revolutionary book, and arguably (in fact, probably) the finest of all Italian novels.