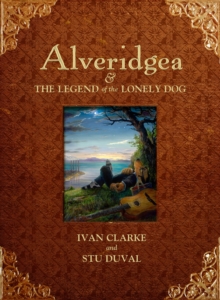 Alveridgea and the Legend of the Lonely Dog
Hardback
Description
Another time, another world. Port Alveridge, nestled on the edge of the sparkling Esparrow Sea, is a town divided.
Cats and Dogs who once fought ancient battles now live as uneasy neighbours in segregated districts, with the town ruled for the greater good of Felines.
Into this hotbed of simmering rivalry steps an orphan hound - Arthur Snout - deposited on the steps of the Alveridge County Orphanage.
A small, unhoundish loner, Arthur is bullied by the other houndlings. And their nickname of 'Lonely Dog' soon sticks. Lonely Dog has a special gift, however, a gift for music that crosses boundaries, styles, and even species...
Torn from his new rough-and-ready family: from Old Rolph - orphanage headmaster, father figure and secret music-lover; from a childhood sweetheart - Kelzie, whom Lonely Dog loves more than anything; from Bronson - biker gang leader who protects him - Lonely Dog flees for his life to the hinterlands, where he unwittingly becomes the star of an outlawed late-night pirate radio show.
With Bronson jailed and shadowy offshore Feline powers marshalling for a war that threatens to destroy all Hound-kind, Lonely Dog must return to Port Alveridge and face his destiny.
Can a shy, reluctant hero - armed with nothing but his 'Houndsound' - change the course of Alveridgean history?
Information
Format: Hardback
Pages: 272 pages, two tone illustrations throughout
Publisher: Atlantic Books
Publication Date: 01/05/2011
ISBN: 9781848873322
Free Home Delivery
on all orders
Pick up orders
from local bookshops
Reviews
Showing 1 - 2 of 2 reviews.
Review by Leov
16/06/2015
I totally loved this book!!!! I usually hate it when animals are humanised but this was cool. I recommend it for teens to adult and some mature kids might enjoy it also.Arthur Snout known as Lonely Dog, begins life as he knew it under the tender care of Bella the Matron of the Houndside Orphanage. He's drawn to the headmaster Rolph and his gleaming, two-cylinder Houndster Whizzer motorbike with sidecar, the houndskiffle music he adored, and especially the sound of the people's champion van Trong. He also likes smart suits and a gorgeous little houndette called Kelzie. However, Alveridgea, the town where they live, comes under the control of the Cats, and becomes unbearable and dangerous. How can Lonely Dog find a peaceful life and family?
Review by LemurKat
16/06/2015
This is a beautiful book to look at and to hold. A large hardback, with richly coloured dustjacket and a jolly good heft to it. It looks expensive, but cost less than $50 (quite cheap for a hardback in NZ) and is illustrated throughout with lineart, sketches and small black and white prints of Clarke's gorgeous artworks. There are collector's editions that are more spectacular - but come with a considerably higher price tag.<br/><br/>Whilst the plot is quite a simple one - the working class (hounds) vs the elite (and manipulate, cats), the way in which it is undertaken is glorious. Clarke and Duval have established a richly developed, beautifully described world in which cats and dogs live side to side - not necessarily in harmony. The characters are as lovingly created and described as the world. And the writing style is excellent.<br/><br/>If you are ever visiting Queenstown, New Zealand, I would recommend that you visit Ivan Clarke's gallery on Camp Street. Not only will you get to see the original illustrations in their full glory, but also larger than life sized sculptures and even cat armour. It's really vrey awesome. Alveridgea Hall also, is situated just outside of Queenstown, and tours can be organised.