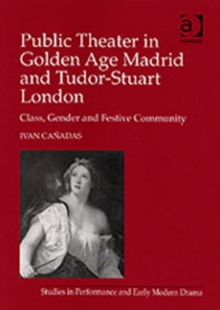 Public Theater in Golden Age Madrid and Tudor-Stuart London : Class, Gender and Festive Community
Hardback
Description
In this comparative study of English and Spanish drama, the author concerns himself with theatrical conventions, the social significance of drama, and audience-reception in the early modern court-cities of London and Madrid.
The primary focus of this study is the drama of Shakespeare and some of his contemporaries, particularly Thomas Dekker, in England, and the peasant honor plays of Lope de Vega in Spain.
In engaging with these works, the study explores the representation of social conflict in the public drama of the two countries, and highlights the polyphonic appeal that the drama held for the mixed audiences of the public theatres, a communal phenomenon in which discourses of class, gender and race intersected.
The author pays sustained attention to the intersections between gender and ideologies of rank, and how these produced a range of political effects in the plays he explores; the study incorporates innovative work on the role of carnival structures and gender bonding in creating pan-class communities.
CaA+/-adas provides not only literary analysis of individual plays, but also insight into the sociology of theatre as an institution.
Information
Format: Hardback
Pages: 246 pages
Publisher: Taylor & Francis Ltd
Publication Date: 21/10/2005
Category: Theatre studies
ISBN: 9780754651871
Also in the Studies in Performance and Early Modern Drama series | View all