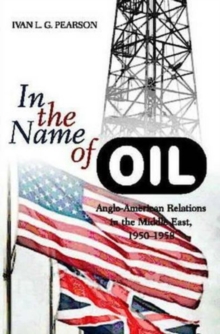 In the Name of Oil : Anglo-American Relations in the Middle East, 1950-1958
Paperback / softback
Description
Traditional historiographies of the Cold War in the Middle East contend that the Suez Crisis marked the demise of Britain's political influence in the region.
By contrast, using recently declassified documents, Ivan Pearson argues that although the Suez Crisis was cataclysmic on many dimensions, it did not mark a precipitous turning point in Britain's ability to affect events in the Middle East decisively.
Although Suez wholly undermined British prestige, and revealed severe shortcomings in its military capabilities, these losses were considerably offset by the increasing ability of British policy-makers to influence the United States a country with an emerging presence in the region.
In several critical instances during the 1950s both before and after the Crisis British policy-makers were successful in shaping events in the Middle East through a concerted lobbying effort that swayed the course of policy action pursued by the US. In the Name of Oil documents the frequent bureaucratic infighting between the Administration, State Department, and CIA on the American side, as well as the way in which the British took advantage of the blurred line between communism and Arab nationalism in the Middle East to mislead the US into pursuing policies that would protect the cheap oil supplied by British-owned oil giants such as the Anglo-Iranian Oil Company and the Iraq Petroleum Company.
The narrative explains the crucial role of local actors, and the tangled web of interests and circumstances: Western-backed coups, counter-coups, political intimidation, rigged elections, misinformation, and bribery.
Barely a decade after the end of World War II, the war's liberal democratic victors were engaged in dubious acts in the name of protecting Europes access to cheap Middle Eastern Oil.
Information
Format: Paperback / softback
Pages: 240 pages
Publisher: Sussex Academic Press
Publication Date: 02/08/2012
Category: Middle Eastern history
ISBN: 9781845195595
Free Home Delivery
on all orders
Pick up orders
from local bookshops