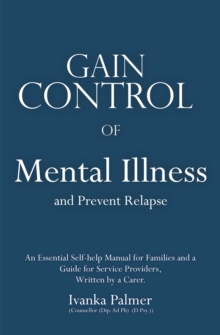 Gain Control of Mental Illness and Prevent Relapses
Paperback / softback
Description
Gain Control of Depression and Mental Illness provides a wide overview of all aspects which are part of, and closely associated with, Mental Illness (MI) and depression.
It explores the medical components and projection of MI, the ill person's struggles with their illness, and other family members' experiences and struggles alike.
These three aspects are essential for families to be familiar with in order to understand the ill person, cope better with MI and gain some control.
By utilising and providing problem-solving methods and a solution-focused approach, this book demonstrates how to drastically reduce stress, unpleasant confrontations and arguments that can be a daily occurrence.
Information
Format: Paperback / softback
Pages: 240 pages
Publisher: Brolga Publishing Pty Ltd
Publication Date: 19/12/2013
Category: Care of the mentally ill
ISBN: 9781922175076