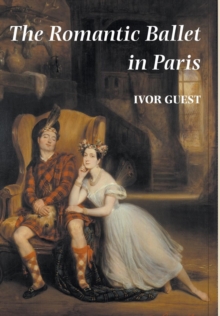 The Romantic Ballet in Paris
Hardback
Description
The age of Romanticism in the first half of the nineteenth century was one of the greatest periods in the history of ballet.
In a span of two decades ballet became what it had never been before, a major theatre art, gaining new vitality and meaning from the ideas of the Romantic movement which rapidly infiltrated each one of its component parts: scenarios, music, decor, choreography and dance style.The main centre of the Romantic Ballet was the Paris Opera, and its high priest was the poet, Theophile Gautier, who wrote the scenarios of "Giselle" and other ballets.
It was he who explained the dual nature of the Romantic ballet so succinctly by contrasting the two rival ballerinas, the spiritual Taglioni and the passionate Elssler, as a Christian dancer and a pagan dancer.These and many other stars of the Romantic ballet, as well as the choreographers, composers, designers and balletomanes of the time are brought vividly to life in a colourful panorama of this great age of French ballet, which Ivor Guest has skilfully set against the social and historical background of the time.This detailed and definitive study, now completely revised and updated, is based on an exhaustive study of the archives of the Opera and printed and pictorial sources of the time, and will find a place on the library shelves of every serious follower of ballet.
Information
Format: Hardback
Pages: 472 pages, 48 b/w illustrations
Publisher: Dance Books Ltd
Publication Date: 31/01/2008
Category: Ballet
ISBN: 9781852731199