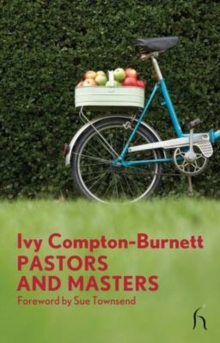 Pastors and Masters
Paperback
Description
Described in contemporary reviews as 'a work of genius', "Pastors and Masters" inaugurated the writing career of an author gifted with a rare skill for characterisation and for wry portrayals of domestic scenes.
Information
Format: Paperback
Pages: 120 pages
Publisher: Hesperus Press Ltd
Publication Date: 25/09/2009
Category: Classic fiction (pre c 1945)
ISBN: 9781843914532
Free Home Delivery
on all orders
Pick up orders
from local bookshops
Reviews
Showing 1 - 5 of 5 reviews.
Review by wandering_star
16/06/2015
How/why I acquired this: well, it was an Early Reviewers book, but I requested it because Compton-Burnett featured in The Uncommon Reader, which I read last year. A book by C-B (can't remember which one) is the first book borrowed by the Queen. She reads it to be polite, and finds it very dry. However, some time later, when she is more well-read, she picks up the same book by accident, and this time finds it very witty and amusing.Not a lot really happens in Pastors and Masters. There is one key event, but if I summarised it, it would not sound like enough to hang a whole book on. The focus is really on the characters - all of whom are intensely dislikeable, running the gamut from martyred and passive-aggressive to self-involved and downright bitchy. And that is where the humour lies - the book is told almost entirely in dialogue, so people condemn themselves out of their own mouths while they think they are putting others down.Now, because there are so many layers, and because many of the characters are self-consciously terribly clever, sometimes the utterances take a lot of puzzling out. So I would agree with Alan Bennett's categorisation. And apparently Compton-Burnett herself described her books as 'easy to put down'!That might sound as if I didn't enjoy this book. That's not actually true: and I will certainly keep it and read it again. But this is definitely a book you have to be in the right mood for. When I was, I found the book very sharp and witty. When I wasn't, I didn't have the patience to wonder over every line to figure out what was really being said, and it draaaagged.Recommended for: someone who is feeling cerebral, and wants something astringent.
Review by MurphyTowers
16/06/2015
In many ways, this novella is more like a play than a work of prose fiction. For the most part, it is written almost entirely in dialogue, and the action occurs in a few almost claustrophobic locations: school dining room and family drawing rooms primarily. It is a very small and close world of an ineffectual school and those involved in its running (masters and pastors) with the addition of a family of two of the pupils and friends of the headmaster. None of the characters is particularly sympathetic: most are more or less responsible for the bleak atmosphere. The dialogue itself is incessant and wordy but strangely uncommunicative, with an off-side and out-of-reach quality, talking around issues instead of through them, similar to that associated with Henry James. The key moment of action, where two main characters discover they are both trying to pass off the same book typescript as their own work, reveals the lack of moral backbone behind this example of a British educational institution; the world here is little more than a sham, the people acting the parts expected of them.
Review by LizzySiddal
16/06/2015
Don't whatever you do be fooled by the fact that this is composed entirely of dialogue. It is not an easy read but as ICB suggested herself, very easy to put down. A novella with a giant sized cast relatively speaking. First you have to work out who is who, who is doing what (actually not a lot other than putting each other down), and who is the most obnoxious. Quite tiresome. I couldn't have cared less.
Review by gaskella
16/06/2015
I won this book from Librarything in their Early Reviewers draw, and it's a lovely little thing. Hesperus Press is another publisher whose raison d'être is bringing back neglected works into print and their list sounds very interesting (Pushkin, Flaubert and Charles Lamb etc). Printed on quality off-white paper with super matt wraparound soft covers, this novella was a physical pleasure to read. The reading itself was a little more difficult.This was ICB's breakthrough novel after one previous effort, and at a mere 98 pages is a swift read. Published in 1925 at the age of 41, Pastors and Masters is set in a minor prep school of which Nicholas Herrick is the nominal headmaster. However apart from taking prayers in the morning he leaves everything to Mr Merry (who, gasp! is not a qualified teacher), plus Mrs Merry, Mr Burgess (who, phew! is qualified), and Matron Miss Basden. Herrick and his younger sister Emily, prefer more intellectual pursuits engaging his friends in debate, and bragging about the book he is writing – will it ever get finished and be published? This is the basis of the plot, on which I'll expound no further to save the twist in tail for you.ICB's style though takes a bit of getting used to. There's little descriptive prose, it's mostly dialogue and that is really clipped, and the characters never shut up! They're constantly talking, mostly at each other, in engagements of verbal sparring, scoring points off each other. This was a group stuck in an old Victorian way of doing things, full of fake gentility. It was impossible to find a single likeable character who actually had anything interesting to say or did anything of merit whatsoever, something I suspect was a deliberate ploy of ICB.'How good we all are at talking without ever saying anything we think!' said Bumpus.'It is not always politic to say what we think,' said Miss Basden.'It is not so easy,' said Masson.'Some times I suppose it is right to say it, whether or not we like it, and whether or not it is liked, said Delia.'Yes, yes the thing to be done,' said Miss Lydia, sighing.'Oh, just possibly. Once or twice in a lifetime,' said Mr Bentley to his daughter.'Nearer once than twice,' said Bumpus.An interesting introduction to ICB's work, but just as I really got into it, it was over. Recommendations for a mature ICB to read some time in the future would be appreciated – hang on a minute, didn't the Queen borrow one from the mobile library in The Uncommon Reader?
Review by silvercowrie
16/06/2015
This short novel is written almost completely in dialogue. As a result, I almost immediately started visualising it as if I was in an old dusty seaside theatre, watching a performance of their weekly rep, with a large cast of characters being played by a small troupe of actors. I never really disengaged myself from that but maybe it allowed the dialogue to have more impact and allowed the humour to come through. There were certainly times that I came unstuck with working out who was who. It does require some sharp concentration, but it is a worthwhile read.Hesperus Press have published this novel by Ivy Compton-Burnett as part of a series of reintroducing little known or forgotten classics. They also include a fascinating biographical note about the author herself and a foreword by Sue Townsend which gives more biographical insight. This background definitely helped in the overall enjoyment of the book.
Also in the Modern Voices series | View all