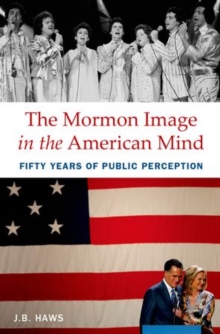 The Mormon Image in the American Mind : Fifty Years of Public Perception
Hardback
Description
What do Americans think about Mormons, and why do they think what they do?
J.B. Haws reveals the dramatic transformation of American thought about Mormons over a period of forty years, showing how a surprising range of personalities, organizations, and events - the Osmonds, the Olympics, the Tabernacle Choir, Evangelical Christians, the Equal Rights Amendment, Sports Illustrated, and even Miss America - helped to shape the American public's understanding of Mormonhistory.
When the Mormon former governor of Michigan George Romney ran for president, he was admired for his personal piety and even called a political Billy Graham.
When George's son Mitt ran for president in 2008, hundreds of thousands of Christians were told that a vote for Mitt Romney was a vote for Satan.
What changed in the intervening four decades? Why were the theology of the Latter-day Saints and their status as ''Christians'' widely accepted in 1968, but so hotly contested in 2008?
Thedisconnect between admiration for the reputation of indivdual Mormons as friendly, hard-working, family-oriented and the ambivalence towards the institution of Mormonism, whuich was reputed to be secretive, authoritarian, deceptive, is a gap that represents perhaps the most dominant trend in the recenthistory of the LDS image. The Mormon Image in the American Mind offers crucial insight into the complex shifts in public perception of The Church of Jesus Christ of Latter-day Saints, its membership, and American society.
Information
Format: Hardback
Pages: 424 pages, 25 illus.
Publisher: Oxford University Press Inc
Publication Date: 21/11/2013
Category: History of religion
ISBN: 9780199897643