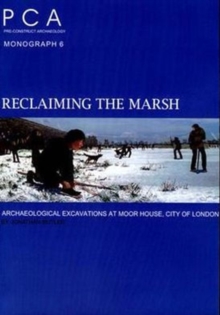 Reclaiming the Marsh : Archaeological Excavations at Moor House, City of London
Paperback / softback
Description
A report on fieldwork carried out in a little investigated area of London just outside the city wall.
The area known as Moorfields was waterlogged throughout the Middle Ages, only being reclaimed in the 16th century.
Finds include evidence of Roman settlement up to the construction of the wall in the 3rd century, and evidence of the medieval use of the area for leisure activities, including ice-skating and for dumping waste.
The site was used for pottery production in the 16th and 17th centuries following its reclamation.
Information
Format: Paperback / softback
Pages: 179 pages, b/w and col illus
Publisher: Pre-Construct Archaeology Limited
Publication Date: 01/12/2006
Category: Archaeology
ISBN: 9780954293857