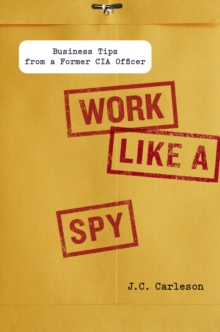 Work Like a Spy : Business Tips from a Former CIA Officer
Hardback
Description
Businesses could learn a lot from spies - not only how to respond to crises, but, also, how to achieve operational excellence.
WORK LIKE A SPY reveals techniques used by CIA officers that can give readers a tremendous strategic advantage in business. Using real examples from her experiences as an undercover CIA officer, Carleson explains how to create loyalty by inspiring it; recognise individual achievement even during times of team failure and establish a sense of urgency - but only when it's really urgent.
WORK LIKE A SPY will help readers: * Understand what a customer really wants * Position themselves in line for promotion * Defend against corporate espionage * Determine whom they can really trust * Deal with a crisis The methods developed by the CIA are all about getting what you want from other people.
In a business setting, they apply to seeking a new job, a promotion, a big sale or a favourable regulatory ruling.
Whatever it is you seek, this book will teach you new strategies to get it.
Information
Format: Hardback
Pages: 224 pages
Publisher: Penguin Putnam Inc
Publication Date: 07/02/2013
Category: Business & management
ISBN: 9781591843535