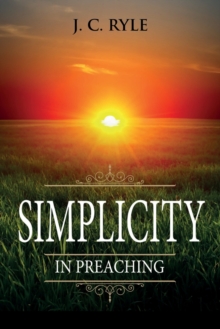 Simplicity in Preaching : Annotated
Paperback / softback
Description
Anglican ministry J. C. Ryle is one of the most simple, straightforward, encouraging and convicting preachers, teachers, pastors and writers that God has ever gifted to the church. In this short book, he tackles the important topic of preaching, pointing out that:
* Simplicity in preaching is of utmost importance to every minister who wishes to be useful to souls,
* To attain simplicity in preaching is by no means an easy task,
* Simplicity does not mean childish and condescending preaching, and
* Simplicity in preaching does not equate to being coarse or vulgar.
Ryle also gives give guidelines, or best practices, for ministers to attain simplicity in preaching, which include:
* Having a clear understanding of the topic to be preached upon,
* Using simple or common words that are understandable to the audience,
* Using simple sentences,
* Being direct, and
* Using plenty of illustrations and anecdotes.
Ministers or anyone else who has ever been tasked with preaching a sermon will profit from this instructive, simple, and helpful book.
Information
Format:Paperback / softback
Pages:34 pages, Illustrations, unspecified
Publisher:Waymark Books
Publication Date:14/08/2020
Category:
ISBN:9781611047042
Also in the Books by J. C. Ryle series