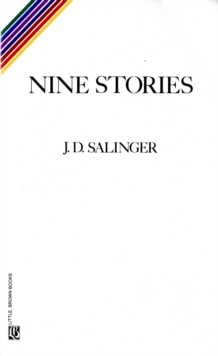 Information
Format: Paperback
Pages: 198 pages
Publisher: Atlantic Books
Publication Date: 01/01/1970
ISBN: 9780316769501
Free Home Delivery
on all orders
Pick up orders
from local bookshops
Reviews
Showing 1 - 5 of 8 reviews.
Previous | Next
Review by bookworm12
16/06/2015
After reading The Catcher in the Rye I realized that angst and frustration were universal feelings. Franny and Zooey made me fall in love with the Glass family and decide to cover my walls with large sheets of handmade paper, covered in quotes. But it was Nine Stories that's always held my favorite bit of Salinger's writing. Where his other novels are sometimes a bit too dramatic for my taste, Nine Stories offers single servings, just enough that it feels like brilliance as opposed to whining. In these smaller doses Salinger's writing is poignant and powerful. He doesn't give the reader everything, he makes you work for it and I appreciate that. Many of the stories deal with someone connected to the Glass family in some way. I get something different from them each time I read one. My two favorites are "A Perfect Day for Bananafish," which broke my heart and "Down at the Dinghy," sweet in its innocence. "Teddy" is also memorable, because it's a bit disturbing. Nine Stories has always seemed a bit underrated, which probably makes me love it more. It contains some of Salinger's greatest characters, if only a snapshot of them, and helps me get a Salinger fix if I need one.
Review by yonas
16/06/2015
The stories in this book were nothing short of really good, but I must say that a lot of them left me wanting more - as if they had no ending at all.
Review by lysander07
16/06/2015
J.D. Salinger ist sicherlich nicht nur für mich ein ganz besonderer Erzähler. Wie viele andere auch, habe ich seinen großen Roman "Der Fänger im Roggen" bereits in der Schule gelesen. Nicht, weil wir diesen im Englischunterricht lesen mussten, sondern weil mich die Erzählungen meiner Bekannten aus dem Englisch-LK (man stelle sich vor, ich konnte Englisch als Fremdsprache abwählen und habe Latein als Abiturfach gewählt...) irgendwie neugierig darauf gemacht hatten. Natürlich habe ich mich damals mit meinen beschränkten Englischkenntnissen (sic!) nicht an die Originalausgabee gewagt, sondern hatte mit der Böll-Übersetzung Vorlieb nehmen müssen (ohne zu wissen, dass die Übersetzung von Heinrich Böll war). Trotz aller Schwächen der deutschen Übersetzung hat mich der Roman damals fasziniert, glaubte ich doch in diesem Roman erkannt zu haben, was es ausmacht, eine gute Geschichte zu schreiben (zumindest damals und in meinen Augen...). Irgendwie passiert ja auch nicht wirklich etwas in diesem Roman, der ja eigentlich auch nur eine auf Romanlänge aufgeblasene Kurzgeschichte ist. Holden Caufield, der "zerbrechlich" wirkende und stets altklug daherredende Held dieser Geschichte aus den 50er Jahren ist aus dem Internat herausgeflogen und vorzeitig - es ist bald Weihnachten - auf dem Weg nach Hause nach New York - ohne natürlich gesteigerten Wert darauf zu legen, in die offenen Arme seiner Eltern zu laufen. Aber das ganze ist ja eigentlich nur ein Rahmen für viele kleine Erzählungen....alles Erzählungen, die von "verpassten" Gelegenheiten und Chancen erzählen. Immer wieder gerät Caufield in eine vielversprechende, entscheidende Situation und das "was-wäre-wenn" geht auf der einen Seite dem Romanhelden und auf der anderen Seite natürlich auch dem Leser durch den Kopf....ohne dass der Romanheld die ihm gebotene Gelegenheit, der Geschichte einen anderen Ausgang zu geben, jemals ergreifen würde. So ist der Leser irgendwie enttäuscht, aber auf der anderen Seite fühlt man sich gekitzelt oder vielmehr angestachelt, um zu sehen, welche Möglichkeiten die nächste Situation birgt, in der Salinger seinen Helden geraten lässt, und ob er diesmal nicht vielleicht doch etwas daraus macht....Etwas anders ist es in diesem Band mit 9 frühen Kurzgeschichten Salingers (allesamt erschienen vor dem 'Fänger im Roggen'), in der er auch viel Biographisches verarbeitet. Wie üblich passiert in den Geschichten auch nicht wirklich etwas. Aber es ist diese Atmosphäre... Stets schafft es Salinger, eine Art Melancholie über Allem schweben zu lassen. Es kommt gar nicht darauf an, was seine Figuren tatsächlich tun und wie sie agieren. Vielmehr sind es die Dialoge bzw. die inneren Monologe, die seine Figuren führen und die sie so besonders machen. Die Nebensächlichkeiten, die in diesen kurzen Episoden zur Hauptsache werden, die fragile Verletzlichkeit der Figuren, das Sich-verlieren in Oberflächlichkeiten, die doch so vieles bedeuten....Ähnliches kennt man aus den Kurzgeschichten von Raymond Carver, der sich Salinger sicherlich auch als Vorbild genommen hatte (besonders zu empfehlen ist die Kurzgeschichtensammlung 'What We Talk about When We Talk about Love').Die meisten Geschichten von Salinger haben etwas mit dem Erwachsenwerden zu tun. Die Spannung, die sich aus dieser Potentialdifferenz ergibt, wenn die handelnde Figur auf der Schwelle zwischen beiden Welten steht, das Erkennen, dass die Lüge einen Stellenwert in der Welt der Erwachsenen besitzt, vor der man nur als Kind gefeit zu sein scheint....So ist erste Geschichte "A perfect day for banana-fish" des vorliegenden Buches eine besonders düstere und bizarre Geschichte. Eine der ersten Geschichte, die Salinger 1948 im "New Yorker" veröffentlicht hat und die ihn über Nacht bekannt machte. Der Protagonist der Geschichte ist ein scheinbar etwas verwirrter Kriegsveteran, freundet sich im Urlaub mit einem kleinen Mädchen an und erzählt ihr am Strand eine Geschichte von Bananenfischen. Dann geht er zurück auf sein Hotelzimmer, legt sich zu seiner schlafenden Frau ins Bett und jagt sich eine Kugel in den Kopf....Salinger bleibt, obwohl er als einer der meistgelesenen (und meistinterpretierten) amerikanischen Autoren gilt, ein ungewöhnlicher, irgendwie nicht greifbarer Charakter. Er nahm an einigen der heftigsten Schlachten des 2. Weltkriegs teil, so etwa bei der Landung der Aliierten in der Normandie oder auch in den Ardennen. Tatsächlich war er auch selbst aufgrund eines Kriegstraumas kurzzeitig in Behandlung. Während seiner Zeit in Europa traf er auf Ernest Hemingway, der als Kriegsberichterstatter teilnahm und Salinger eine "außerordentliche Begabung" bescheinigte. 1965 veröffentlichte Salinger seine letzte Erzählung -- insgesamt hat er neben dem "Fänger Im Roggen" lediglich knapp über 30 Kurzgeschichten veröffentlicht. Seither lebt er zurückgezogen und die ganze Welt wartete immer wieder auf einen neuen "großen Wurf"....der wohl nicht mehr kommen wird.
Review by figre
16/06/2015
I've read more than one book at a time many times (as I'm sure many of us have), but I've never been in a situation where I felt one book may have effected the reading of another. But I wonder if that is not what has happened to me here.As I began this collection, my first thought was, "Uh…What?" Not an unusual reaction for some short story collections, the kind of stories you read through, wonder what you read, why they wrote it, and, ultimately, why you wasted your time. But that wasn't the "uh-what" moment I was having as I began this collection. For example, the first story ("A Perfect Day for Bananafish") is perfectly engrossing. The shift between perspectives works well and there is a sense of foreboding that plays perfectly. But then, in the end, [Warning! Spoiler alert (Do you hate that phrase as much as I do? This is not really a spoiler because, the event is perfectly foreshadowed)] when the soldier commits suicide, in spite of the excellent foreshadowing I've mentioned, I still just looked at the ending and thought "So???" However, my sense that I was about to enter into well-written stories that held no purpose slowly dissolved as I read through the collection.So, what was I reading concurrently that may have caused my gears to shift too slowly? A collection of humor pieces titled "Mirth of a Nation". (My review of that collection is available if you are so inclined.) I chose the Salinger on purpose, feeling that I needed a break in the humor pieces and guessing that Salinger would be just the antidote. Well, antidote it may have been, but I wonder if it was not to the detriment of the antidote itself. So, I now figure I'll have to go back in and reread some of the opening stories because, as I continued to read through, the stories got better and better. (Or, maybe more to the point, I became better at reading them.) Most have that same kind of seminal event that brings them to conclusion, (or even that sometimes too artsy "He looked at the blue sweater" type ending) but they fit better. And each story left me thinking about the story, how the pieces worked to a final understanding of the events, and what the writer was trying to say. To the point that the last story, "Teddy", which also ends with a suicide (whoops, forgot the spoiler alert) worked seamlessly. Haunting, intriguing, memorable stories. The fact that a quick glance at the title and a couple of paragraphs can bring back to me the entire story says volumes about the quality and lasting power of each.
Review by RMSmithJr
16/06/2015
Not excessively memorable. Standard collection of repackaged and republished magazine short stories. Warm up for imminent reading of Catcher in the Rye.