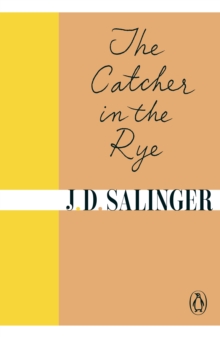 The Catcher in the Rye
Paperback
Description
The Catcher in the Rye is J . D. Salinger's world-famous novel of disaffected youth. Holden Caulfield is a seventeen- year-old dropout who has just been kicked out of his fourth school.
Navigating his way through the challenges of growing up, Holden dissects the 'phony' aspects of society, and the 'phonies' themselves: the headmaster whose affability depends on the wealth of the parents, his roommate who scores with girls using sickly-sweet affection. Written with the clarity of a boy leaving childhood behind, The Catcher in the Rye explores the world with disarming frankness and a warm, affecting charisma which has made this novel a universally loved classic of twentieth-century literature.
J. D. Salinger was born in 1919 and died in January 2010. He grew up in New York City, and wrote short stories from an early age, but his breakthrough came in 1948 with the publication in The New Yorker of 'A Perfect Day for Bananafish'. The Catcher in the Rye was his first and only novel, published in 1951. It remains one of the most translated, taught and reprinted texts, and has sold some 65 million copies. His other works include the novellas Franny and Zooey, For Esme with Love and Squalor, and Raise High the Roof Beam, Carpenters, published with Seymour - An Introduction.
Information
Format: Paperback
Pages: 240 pages
Publisher: Penguin Books Ltd
Publication Date: 01/02/2010
ISBN: 9780241950432
Free Home Delivery
on all orders
Pick up orders
from local bookshops
Reviews
Showing 1 - 2 of 2 reviews.
Review by polarbear123
16/06/2015
Read it then weep for you will never write something that flows as easily as this and means so so much. A beautiful book with wonderful dialogue and intriguing characterss. Holden is a warning to everyone. Essential reading.
Review by boppisces
16/06/2015
One that I've meant to read for a while now. Sixteen-year-old Holden Caulfield has just been expelled from Pencey Prep, an exclusive private school. After a fight with his roommate he packs up and takes a train home to New York where he checks into a hotel and then wanders round the city, occasionally meeting up with people he used to know in a self-indulgent fog rather than facing the music at home. He has conversations with his dead brother and catches up with his 10-year-old sister Phoebe as his psychotic ramble continues.During the 1980s the novel was linked to several crimes: the murder of John Lennon (1980 - Mark David Chapman), the attempted assassination of President Reagan (1981 - John Hinckley, Jr.), and the slaying of actress Rebecca Schaeffer (1989 - Robert John Bardo) which probably just increased it's popularity. In 1951 it was probably cutting edge stuff but today it's just really badly dated and I found it a really boring narrative told from the perspective of a spoilt whiny rich kid who thinks he is better than everyone else around him. Much repetition and self-indulgent angst.Title: [Related to the poem by Robert Burns 'Coming thro' the Rye' (1796)]. 'Anyway I keep picturing all these little kids playing some games in this big field of rye and all. Thousands of little kids, and nobody's around - nobody big a, I mean - except me. And I'm standing on the edge of some crazy cliff. What I have to do, I have to catch everybody if they start to go over the cliff - I mean if they're running and they don't look where they're going I have to come out from somewhere and catch them. That's all I'd do all day. I'd just be the catcher in the rye and all. I know it's crazy, but that's the only place I'd really like to be.' (Chapter 22).