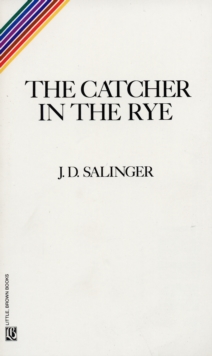 The Catcher in the Rye
Paperback
Description
Anyone who has read J.D. Salinger's New Yorker stories ? particularly A Perfect Day for Bananafish, Uncle Wiggily in Connecticut, The Laughing Man, and For Esme ?
With Love and Squalor, will not be surprised by the fact that his first novel is fully of children.
The hero-narrator of THE CATCHER IN THE RYE is an ancient child of sixteen, a native New Yorker named Holden Caulfield.
Through circumstances that tend to preclude adult, secondhand description, he leaves his prep school in Pennsylvania and goes underground in New York City for three days.
The boy himself is at once too simple and too complex for us to make any final comment about him or his story.
Perhaps the safest thing we can say about Holden is that he was born in the world not just strongly attracted to beauty but, almost, hopelessly impaled on it.
There are many voices in this novel: children's voices, adult voices, underground voices-but Holden's voice is the most eloquent of all.
Transcending his own vernacular, yet remaining marvelously faithful to it, he issues a perfectly articulated cry of mixed pain and pleasure.
However, like most lovers and clowns and poets of the higher orders, he keeps most of the pain to, and for, himself.
The pleasure he gives away, or sets aside, with all his heart.
It is there for the reader who can handle it to keep.
Information
Format: Paperback
Pages: 224 pages
Publisher: Little, Brown & Company
Publication Date: 01/05/1991
ISBN: 9780316769488
Free Home Delivery
on all orders
Pick up orders
from local bookshops
Reviews
Showing 1 - 5 of 94 reviews.
Previous | Next
Review by formica
16/06/2015
my least favourite j.d. salinger book. if i was to reccomend a j.d. salinger book to people this would be the last on my list. it's not that i hate the book, i just find it a lot less interesting than his other books. because of this i always find it odd that this is the one people are often forced to read in high school. if this was my introduction to salinger i'm not sure i'd go on to read his other books.
Review by Crowyhead
16/06/2015
People seem to love this book or hate it. I'm in the "love it" camp myself; Holden is annoying and angsty but also amazingly real. I almost think making this assigned reading ruins it; it should be one of those books you find all dusty and crumpled on your parents' shelf or at the library, and you read it and love it and feel as though you've discovered something special.
Review by SeriousGrace
16/06/2015
A coming-of-age tale about a NYC boy who has trouble with authority. Holden Caufield is a teenager who continuously gets expelled from prep schools. After leaving yet another school the reader follows Holden home. In 48 hours he rents a hotel room, tries a "date" with a prostitute, parties, visits his kid sister and friends of the family, and decides to run away to California to see his older brother. Despite Holden's bravado and know-it-all attitude he is just a lonely kid.
Review by kimbee
16/06/2015
I read this for AP english in the summer before grade 12. I hated it. I hated the character of Holden, and his pessimistic attitude to everything and everyone. In March my teacher made us read over a book that we'd already read. I chose this one. I actually saw a different side of Holden that I could relate to. The book was a good read that will stay with me for a long time.
Review by xicanti
16/06/2015
Let's get one thing clear, right up front: I love this book. I'm not an obsessed fan, a frequent rereader or an angsty teen. I'm just a girl who's found Salinger's writing much to her liking, and who feels that this book has a whole lot to offer the reader.I've read it three times now. I first came to it in high school. I revisited it in university. Now, at the age of twenty-five, I've returned to it yet again. And I enjoyed it as much now as I did when I was fifteen.So. Why do I love it so much? I think Salinger's use of voice is just remarkable. Holden's colloquial tone tells us as much as his story does. Instantly, we're given a clear picture of who this guy is and how he views the world. As we learn more details about his life and the circumstances that have brought him to this point, we begin to fill in the gaps for ourselves. His mental state becomes more obvious, and certain of his comments take on new meaning. The reader has to question everything as she tries to figure out just what's going on with Holden. It's beautifully done, and serves to immerse the reader not only in the story but also in its narrator's mindset.That's not to say that Holden is a likable fellow. He isn't, for most of the novel. He's always <i>engaging</i>, though. I was always eager to see his world through his eyes. I found that he gave me a lens through which I could examine some of my own opinions and ideas. And Salinger's style is irrisistable, so far as I'm concerned. I can't get enough of it.Catcher has gotten a lot of flak over the years. Some critics dismiss it as a proto-YA novel with nothing new to tell us about the adolescent experience. Others find Holden's voice far too colloquial. Many, many people feel that the story is boring, repetitive and meaningless. I think they've all got valid points, but in the end it just boils down to personal taste. Many people dislike this book. Many more hate it with an unholy passion. But many others find it absorbing, thought-provoking and worthwhile. I highly recommend that you give it a go, if only to see which camp you're a part of.