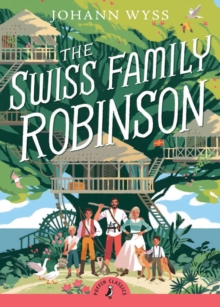 The Swiss Family Robinson
Paperback
Description
Following a wild and raging storm, the Swiss family Robinson are stranded at sea.
But the thundering waves have swept them off to a tropical island, where a new life awaits them.
Their ship is laden with supplies and the island is packed with treasures, so they soon adapt and discover new dangers and delights every day . . .With an inspiring introduction by American author and America's first children's laureate Jon Scieszka.
Information
Format: Paperback
Pages: 496 pages, none
Publisher: Penguin Books Ltd
Publication Date: 05/03/2009
Category: Classic
ISBN: 9780141325309
Free Home Delivery
on all orders
Pick up orders
from local bookshops
Reviews
Showing 1 - 4 of 4 reviews.
Review by MissBoyer3
16/06/2015
Written from the perspective of the father, it chronicles the first-hand account of the shipwreck and survival of a Swiss family of six on a remote island somewhere near New Guinea. The family consists of a Swiss pastor who is a walking encyclopedia on agricultural practices from around the world; his wife who excels in equal measure with culinary skills, and four energetic sons. Displaying remarkable resilience and resourcefulness, they survive completely alone for over ten years until their rescue. In the process, they create their own European civilization, showing complete mastery over animals and plants, and creatively establishing houses. The bulk of the novel consists of their struggle for survival with their endless discovery of new species of plants and animals..
Review by Ireadthereforeiam
16/06/2015
So. A family gets shipwrecked on an island. They happily build some houses, plant food-bearing plants, tame some local animals, and kill one of everything else they see to put in their "museum". The head of the household is a pious man, who luckily seems to know everything about every animal/plant/indigenous custom that ever existed. This father is the narrator of the story. It seems that at every turn there is an opportunity for him to impart some specialised knowledge and moral lesson for his sons. I found him to be stuffy and arrogant, but that was the time I suppose. The only thing saving this story for me was that it was originally a bedtime story told to the authors sons. In that context I can see the fast moving events working, but in the novel form it is repetitive and borderline meaningless
Review by azlanshae
16/06/2015
This book is about a family who gets shipwrecked. They take refuge on the shore of an island and hope someone comes to rescue them. Eventually they decide to begin making a home for themselves. The boys help their father create an amazing tree house. The family spends their days adventuring around the island and their nights playing music and dancing! The littlest brother is my favorite because he likes to catch and train wild animals on the island. The older brothers go off to explore the other part of the island and end up saving a girl (who they think is a boy at first). The brothers vie for her attention and both develop crushes on her. In the end they are rescued by the girls grandfather, but all but one brother choses to stay on the island and continue living the dream life!
Review by herethere
27/08/2015
A family finds themselves shipwrecked on an island of plenty. They depend on their own hard work and wits to survive. Father is the all knowing leader, the mother a patient hardworking partner, and the four boys each of their quirks. I probably would have enjoyed it more when I was 12 and didn't cringe at some of the archaic language and ideas. Hard to see using it in class, except to hand to a strong reader for a possible challenge book.
Also by J. D. Wyss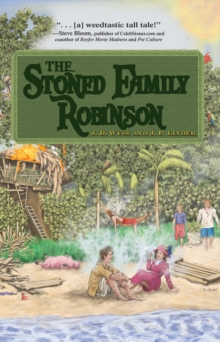 Also in the Puffin Classics series | View all