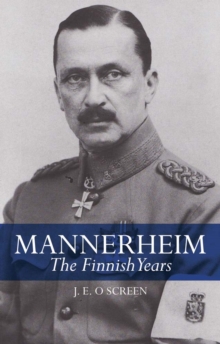 Mannerheim : The Finnish Years
Paperback / softback
Description
As soldier and statesman, Carl Gustaf Mannerheim (1867-1951) occupies a unique place in the history of Finland.
He served as Commander-in-Chief of the Finnish Army in 1918 and again from 1939-1944.
He was Regent of Finland in 1919 and President of the Republic from 1944-1946.
In 1918 he suppressed an attempted revolution against the democratically elected Finnish Government which followed the Bolshevik revolution in Russia.
The passage of time turned him from a hero of the Right into a trusted national figure, while his leadership of Finnish resistance to Soviet aggression in the Winter War of 1939-40 won him international fame.
He led the Finnish Army in the Continuation War of 1941-44, in which Finland fought as a co-belligerent with Germany, and took over as President in 1944, after which he ensured Finland negotiated an armistice with the Soviet Union, albeit with harsh terms for Finland.
Under his leadership, Helsinki was one of only three wartime European capital cities that was not occupied. And only Mannerheim's authority held the nation together as it adjusted to a new relationship with the Soviet Union.
This revised paperback edition describes his transformation from a Tsarist Russian General into a Finnish statesman and patriot.
It sets his career in its historical context, examines his character and sums up his legacy.
Information
Format: Paperback / softback
Pages: 288 pages, Illustrations, unspecified
Publisher: C Hurst & Co Publishers Ltd
Publication Date: 30/05/2014
ISBN: 9781849043625
Also by J. E. O. Screen