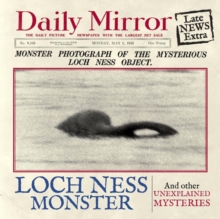 The Loch Ness Monster : And Other Unexplained Mysteries
Hardback
Description
It's 80 years after the first modern-day sighting of the Loch Ness Monster and yet despite frequent eye witness accounts since then, sonar images and even video footage, still no one knows for sure whether there really is a serpent-like prehistoric behemoth inhabiting the famous Scottish lake.
More amazing is that Nessie is only one of countless extraordinary terrestrial and extraterrestrial life-forms that have been reported worldwide over the course of the last century or so: the Yeti and Bigfoot; British big cats such as The Beasts of Bodmin and Stroud; paranormal manifestations in the form of ghosts, banshees and poltergeists; and visitors from other worlds, aliens and their UFOs.
The list is astonishing and extensive, but the remarkable Daily Mirror archive has accumulated a wealth of articles and pictures from sightings, visitations, apparitions and alien abductions, many of which are now collected together in this otherworldly monster of a book, "Loch Ness Monster and Other Unexplained Mysteries".
Information
Format: Hardback
Pages: 208 pages, 30 illustrations
Publisher: Haynes Publishing Group
Publication Date: 19/06/2013
Category: Monsters & legendary beings
ISBN: 9780857332028
Free Home Delivery
on all orders
Pick up orders
from local bookshops