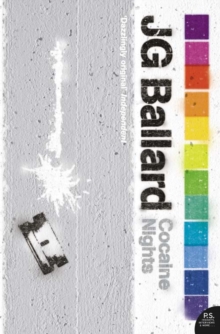 Description
`Snort up "Cocaine Nights". It's disorientating, deranging and knocks the work of other avant-garde writers into a hatted cock' Will SelfFive people die in an unexplained house fire in the Spanish resort of Estrella de Mar, an exclusive enclave for the rich, retired British, centred on the thriving Club Nautico.
The club manager, Frank Prentice, pleads guilty to charges of murder - yet not even the police believe him.
When his Charles arrives to unravel the truth, he gradually discovers that behind the resort's civilized facade flourishes a secret world of crime, drugs and illicit sex.At once an engrossing mystery and a novel of ideas, `Cocaine Nights' is a stunningly original work, a vision of a society coming to terms with a life of almost unlimited leisure.This edition is part of a new commemorative series of Ballard's works, featuring introductions from a number of his admirers (including Neil Gaiman, Zadie Smith, John Lanchester and Martin Amis) and brand-new cover designs.
Information
Format: Paperback
Pages: 352 pages
Publisher: HarperCollins Publishers
Publication Date: 01/09/1997
Category: Crime & mystery
ISBN: 9780006550648
Free Home Delivery
on all orders
Pick up orders
from local bookshops
Reviews
Showing 1 - 1 of 1 reviews.
Review by isabelx
16/06/2015
He seized me from behind. There was a strange smell on his hands, perhaps some sort of special oil that professional stranglers use.When travel-writer Charles Prentice is summoned to Spain after his brother Frank is arrested, he assumes that he has been fitted up by the Spanish police, but on arrival he is stunned to discover to find that Frank has been charged with murdering five people, and has pleaded guilty. Frank is the manager of a sports club in Estrella de Mar, a community of northern European ex-pats near Marbella and Charles decides to stay there and try to find out what really happened, since no-one, not even the Spanish police, seems to believe he is guilty. Charles Prentice is not so much an unreliable narrator, as an unobservant, easily led and obtuse narrator. He veers from wildly over-imaginative (see above) to willfully blind: 'I've watched him at work, Paula. He genuinely wants to help everyone. He's stumbled on this strange way of getting people to make the most of themselves. It's touching to see such simple faith. He's really some kind of saint.''He's a psychotic.''Not fair. He gets carried away sometimes, but there's no viciousness in the man.''Pure psycho.' She turned her back on the mirror and stared critically at me. 'You can't see it.'. I first read this book when it came out in paperback and I think I preferred it then, when the dark underbelly of Estrella de Mar came as a surprise, as it was the first of J.G. Ballard's books on that theme that I had read.