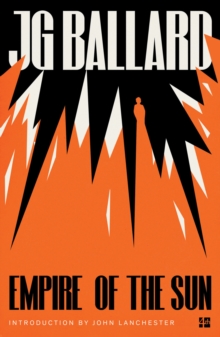 Empire of the Sun
Paperback
Description
The classic, heartrending story of a British boy's four year ordeal in a Japanese prison camp during the Second World War.
Newly reissued with an introduction by John Lanchester.Based on J.
G. Ballard's own childhood, this is the extraordinary account of a boy's life in Japanese-occupied wartime Shanghai - a mesmerising, hypnotically compelling novel of war, of starvation and survival, of internment camps and death marches.
It blends searing honesty with an almost hallucinatory vision of a world thrown utterly out of joint.Rooted as it is in the author's own disturbing experience of war in our time, it is one of a handful of novels by which the twentieth century will be not only remembered but judged.This edition is part of a new commemorative series of Ballard's works, featuring introductions from a number of his admirers (including Zadie Smith, Rivka Galchen, Hari Kunzru and Martin Amis) and brand-new cover designs from the artist Stanley Donwood.
Information
Format: Paperback
Pages: 352 pages
Publisher: HarperCollins Publishers
Publication Date: 21/04/2006
ISBN: 9780007221523
Other Formats
EPUB from £6.24
eAudiobook MP3 from £5.59
Hardback from £42.95
Free Home Delivery
on all orders
Pick up orders
from local bookshops
Reviews
Showing 1 - 3 of 3 reviews.
Review by dylanwolf
16/06/2015
I understood that this novel was based around the real life experiences of the author's childhood in Shanghai but although this is a fine and absorbing read I encountered a problem that prevented me from warming to it entirely. I didn't believe it! The boy's reactions to his sudden wrenching away from two loving parents in a highly-priviledged and upper-class gated colonial community into the horror of Japanese invasion just didn't seem likely. He immediately becomes a self-reliant street urchin who suffers no disabilitating mourning for his parents nor his former comforts. He adapts and comforms with a hard-nosed resilience that I find hard to accept he would have possessed. Consequently, I had a slight worry about unreliable narrative syndrome, in a text that flaunted its verisimilitude.
Review by Fluffyblue
16/06/2015
Empire of the Sun was, for me, quite a difficult read. I found it quite disturbing and the images it conjured up were harsh and sometimes quite shocking. In that sense, I suppose it is a fairly accurate representation of what times were like in Shanghai during WWII.Jim was a likeable enough character, but some of the others I did not care for - I wasn't particularly fond of Basie, I thought he was a bit of a user. I struggled to concentrate on the book at times, and found myself easily distracted.
Review by gooneruk
16/06/2015
I finished Empire Of The Sun by JG Ballard yesterday, and it's safe to say that it blew me away. It truly is an exceptional book, in turns moving and funny, with deep and light moments throughout.The coverline is a quote from The Guardian newspaper, calling it "The best British novel about the Second World War", but this isn't to say that it's an outright war novel. It's not even set anywhere near Britain, instead occurring in Shanghai and detailing the Japanese occupation.The central character, Jim, is a young boy at the outbreak of the war, but spends nearly three years in a POW camp just outside Shanghai, separated from his parents. He learns how to survive and protect his skin, mainly by being ultra-helpful to his fellow prisoners, often to the point of annoyance, even if he doesn't realise it.Jim also retreats into his fantasy world, and daydreams of being a pilot in the future. He doesn't care on whose side, just so long as he can get up in the air and truly be free. His most intense emotional experiences are always connected to the nearby airfield and its gleaming metal wonders.This novel is highly autobiographical, and it's amazing to see how knowledgeable Ballard is of his own dizzying interest in just about everything around him. Jim is relentlessly upbeat, even in the face of death and disease at every turn. He is perhaps too trusting, but he's also brave in his attempts to converse with his prison guards.Exquisitely written, and with intense detail of every scene, particularly the dead and the dying, this is a simply fantastic book. It truly puts the reader in Jim's shoes, seeing everything around him destroyed, and his world turned upside down.It's this kind of literature, part novel and part history lesson, that makes me realise just how lucky we have it nowadays. I sit here on my sofa, typing on a laptop, with nary a fear in the world, and yet just one or two generations ago people lived through (and died during) terrible atrocities which we can't even begin to comprehend nowadays.This type of historical document, especially told through the eyes of a child, is important. It reminds us of how far we've come, and how far we've still got to go.