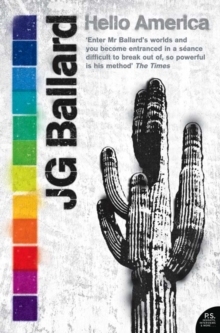 Description
A terrifying vision of the future from one of the twentieth century's most renowned writers - J.
G. Ballard, author of `Empire of the Sun' and `Crash'.Following the energy crisis of the late twentieth-century America has been abandoned.
Now, a century later, an expedition from Europe returns to the deserted continent.
But America is unrecognisable - the Bering Strait has been dammed and the whole continent has become a desert, populated by isolated natives and the bizarre remnants of a disintegrated culture.The expedition sets off from Manhattan on a cross-continent journey, through Holiday Inns and abandoned theme parks.
They will uncover a shocking new power in the heart of Las Vegas in this unique vision of our world transformed.This edition is part of a new commemorative series of Ballard's works, featuring introductions from a number of his admirers (including Ned Beauman, Ali Smith, Neil Gaiman and Martin Amis) and brand-new cover designs.
Information
Format: Paperback
Pages: 256 pages
Publisher: HarperCollins Publishers
Publication Date: 01/09/2008
ISBN: 9780007287031
Free Home Delivery
on all orders
Pick up orders
from local bookshops
Reviews
Showing 1 - 1 of 1 reviews.
Review by LisaMorr
16/06/2015
As I finished this book, I was describing it to the girlfriend who gave it to me and she wanted to know if she should read it. I really couldn't give her an answer, I just kept getting stuck with saying, "It's weird." She did say in the end that she wanted to read it....!I do like apocalyptic, post-apocalytic and dystopian novels, and this fits that bill; I have read three of these relatively recently that were about the downfall of the US and written by British authors - The Pesthouse and Down to a Sunless Sea were the other two, and I always find it amusing to see what aspects of American life are played up by these authors.So, if you think the idea of the eastern half of the United States turning into a great desert with the western half turning into a jungle sounds intriguing, this might be the book for you. Throw in an animatronic army of former US presidents, nuclear missiles and huge holograms of John Wayne, Henry Fonda and... Charles Manson(?) and it makes for an interesting mix.This is a tale of a journey westward across the United States by a group of explorers from Europe, all who have ties to the previous United States of America. They have different motivations for this journey and they are changed by the trip in different ways.Bit of trivia - I read some of the info in the back of the book after finishing the novel - information about the author, about the book and where to find out more, and it said that the movie Crash was based on a J. G. Ballard story. I checked into this further, and of course, this was not the 2004 movie that won 3 Oscars, but the 1996 movie directed by David Cronenberg, that looks REALLY distrubing, and I guess I'll have to check it out.....I'm giving it 3 stars; I wasn't totally pulled into the book and found that the way the author changed the narrative style throughout the book was distracting. And it was just too weird in many parts. I did finish it though, and it still resonates with me.