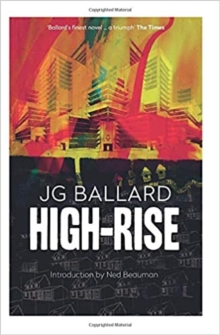 Description
From the author of `Crash' and `Cocaine Nights' comes an unnerving tale of life in a modern tower block running out of control.Within the concealing walls of an elegant forty-storey tower block, the affluent tenants are hell-bent on an orgy of destruction.
Cocktail parties degenerate into marauding attacks on `enemy' floors and the once-luxurious amenities become an arena for riots and technological mayhem.In this visionary tale of urban disillusionment society slips into a violent reverse as the isolated inhabitants of the high-rise, driven by primal urges, create a dystopian world ruled by the laws of the jungle.This edition is part of a new commemorative series of Ballard's works, featuring introductions from a number of his admirers (including Iain Sinclair, Ali Smith, Neil Gaiman and Martin Amis) and brand-new cover designs.
Information
Format: Paperback
Pages: 272 pages
Publisher: HarperCollins Publishers
Publication Date: 21/08/1985
Category: Science fiction
ISBN: 9780586044568
Other Formats
Paperback from £6.89
EPUB from £4.99
Free Home Delivery
on all orders
Pick up orders
from local bookshops
Reviews
Showing 1 - 5 of 9 reviews.
Previous | Next
Review by dubflicker
16/06/2015
Awesome story; a high-rise building, over a series of progressively worse equipment and maintenance failures, polarizes into alliances between different floors, and the different tribes, and gradually descents into almost total savagery. I also like how all of the character we get perspectives from initially distance themselves intellectually from the whole process, but gradually become more and more willing to live in and take part in these tribal wars. When you examine this novel for plausibility in a larger world, it stops making much sense, but it\'s very persuasive while you\'re reading it. Recommended.
Review by john257hopper
16/06/2015
This was my first Ballard novel, but certainly won't be my last. I do like dystopian fiction and this depicts horrifically and initially quite realistically the decay of life in a tower block where residents have no sense of social responsibility of proper appreciation of the threads that bind together a community. However as the decay progresses and the horrors mount, questions of lack of realism do arise. There are 2000 people in this high-rise, many of them with high powered and quite public jobs. Why do no employers and colleagues notice people not turning up to work? Why do none of the residents communicate with the outside world during the early stages and later fail to escape from the horrors going on? Surely many residents would shop and eat outside - the supermarket and restaurant cannot cater for so many people and seem to receive no deliveries. Where is the plague of rats and consequent disease that would result from such accumulations of rubbish?These problems aside, this is a great and chilling piece of writing. I've already bought The Drought from eBay.
Review by Nickelini
16/06/2015
An interesting premise, if you can suspend belief that no one would have called the police.
Review by Sean191
16/06/2015
Second book from Ballard and it was just too out there. Especially after reading Concrete island. The opinion I've formed of Ballard: He creates a situation to explore human nature, but I don't think he puts enough thought into how plausible the situation is or he doesn't care since it's secondary to the main point of studying the people. Unfortunately, I don't feel his take on people is realistic or profound. I don't think I'll be reading further books from him.
Review by roblong
16/06/2015
I'm coming to the conclusion that I like the idea of Ballard's books rather than the books themselves. Was looking forward to this one but never quite got into it, and even though it's a short novel it felt a bit of a slog. The ideas are interesting, and the situation well handled in some respects (if slightly forced; you have to suspend some serious disbelief that not one person calls the police), but it doesn't really come alive. The main reason is obvious the moment you open the book - block paragraph after block paragraph describing someone doing something, but no real interaction between the characters or dramatic tension built up between them. It's particularly frustrating as being let off the leash is just what the characters want, and why the plot follows the path it does...There are some satisying bits and he does a good job of putting over why people actually want their civilisation to be torn up in this way, but for me it reads like an extended synopsis rather than a really good novel.