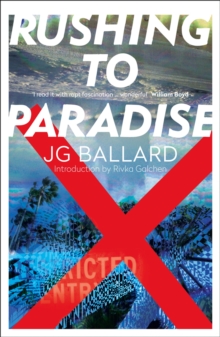 Rushing to Paradise
Paperback
Description
J. G. Ballard - author of `Crash' - explores the extremes of ecology and feminism in this highly acclaimed modern fable.
Newly reissued with an introduction by Rivka Galchen.Dr Barbara Rafferty is a fearless conservationist, determined to save a rare albatross from extinction.
Her crusade gains widespread coverage when earnest young environmentalist Neil Dempsey is shot and wounded.Support for the conservationists grows and well-wishers flock to the island, bringing with them specimens of other endangered creatures to be protected by Dr Barbara and her crew.
The island seems a new Eden.But is Dr Barbara as altruistic as she appears?
Why are the islanders committing acts of self-sabotage? And what's keeping Neil alive while the other men sicken?A classic exploration of the extremes of human behaviour from J.G Ballard, this is a brilliantly unsettling novel in which all preconceptions are overthrown.This edition is part of a new commemorative series of Ballard's works, featuring introductions from a number of his admirers (including Robert Macfarlane, Martin Amis, James Lever and Ali Smith) and brand-new cover designs from the artist Stanley Donwood.
Information
Format: Paperback
Pages: 240 pages
Publisher: HarperCollins Publishers
Publication Date: 11/09/1995
ISBN: 9780006548140
Free Home Delivery
on all orders
Pick up orders
from local bookshops
Reviews
Showing 1 - 1 of 1 reviews.
Review by Jargoneer
16/06/2015
Environmental horror story. Neil Dempsey, a 16 yo boy still recovering from the death of his father, is dragged into the ecological campaign, "Save the Albatross", led by the mysterious Doctor Barbara Rafferty. During their first trip to the island of Saint-Esprit Neil to protest against the French military occupation is shot in the ankle, making him an instant hero to the environmental movement. On the back of Neil's new-found fame, Rafferty is able to fund a new better campaign against the French on the tropical island. On board the <i>Dugong</i>, in addition to Neil and Rafferty, are - Kimo, who dreams of a new Hawaiian kingdom; David Carline, president of a small pharmaceutical company with a penchant for participating on do-gooding missions; Professor Saito, a botanist, and his wife come assistant; Monique, an air stewardess whose father was one of France's leading ecologists; and, Malcolm and Janet Bracewell, film-makers. Upon reaching Saint-Esprit the second time the French attempt to stop them by ramming the <i>Dugong</i>, resulting in the death of Malcolm Bracewell, all captured on film, which creates a media storm resulting in the French leaving the island. It also makes Saint-Esprit the holiday choice of every environmental campaigner, and the island is swamped with people and donations. Rafferty announces that the island will be another ark, a place to protect all the endangered species of the earth. As the stream of people and materials continues Rafferty eventually cracks and engineers situations to destroy all the supplies and close the island off - returning the island to purer simpler place. Inevitably, tensions mount as supplies run out but Rafferty organises a new society, one in which the men are surplus to requirement, with the exception of Neil, who being young and healthy could be of potential use. The men start to suffer from unknown diseases, rumours of the French returning start growing, and the body count keeps growing. All the elements we expect from Ballard are here - a mysterious doctor whose motives may not be what they seem; a closed environment that is both paradisaical and dangerous; a motley group of individuals with various pyschopathological reasons for colluding with disaster. The protagonist, Neil, appears to be a spiritual companion to Jim from <i>Empire of the Sun</i>. He even shares similar nuclear dreams - <blockquote> The power of the atomic test explosions, portents of a now forgotten apocalypse, had played an important part in drawing him to the pacific. As he screened cold-war newsreels for the modern-history classes in the film school theatre he stared in awe at the vast detonations over the Eniwetok and Bikini lagoons, sacred sites of the twentieth-century imagination. But he could never admit this to anyone, and even felt vaguely guilty, as if his fascination with nuclear weapons and electro-magnetic death had retrospectively caused his father's cancer.</blockquote>It was this sideways look at aspects of modern technological culture that first piqued my interest Ballard - it seemed that was a writer of modernity, while so many of his contemporaries were essentially still writing 19th century novels. But times change and the nuclear dreams of Neil seem forced in this work, a homage to better earlier works. In fact that is the problem with the whole novel - we have been here too often, the scenery may have changed but the story remains the same. (To be honest, Ballard always uses the same plot - how successful each novel is is down to Ballard's engagement with the subject matter). That's not to say there is nothing to enjoy here, even lesser Ballard is worth the effort. Rafferty's attempt to recreate Eden and produce a paradise with no men is fun, as is her murderous rampage (Neil finding the bodies in the greenhouse is a nice nod to classic detective fiction); using the zoo stuffed full of rare animals as a larder - Rafferty, the saviour becomes the angel of destruction. There are some good satiric jabs at the environmental movement, feminism, the weaknesses of men, etc, but they are nice soft targets. This is Ballard going through the motions, with the result being a solid professional read. When this novel was first published most critics were writing Ballard off as a spent force but a few years later he was to embark on a series of novels that cemented his reputation as one of the best post-war British novelists. Not prime Ballard but still worth a read. (It could be that first-time Ballard readers may enjoy this more, not being so au fair with Ballard's techniques).