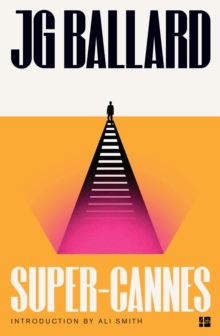 Description
A high-tech business park on the Mediterranean is the setting for a most disturbing crime in this reissue featuring a new introduction by Ali Smith.A disturbing mystery awaits Paul and Jane Sinclair when they arrive in Eden-Olympia, a high-tech business park in the hills above Cannes.
Jane is to work as a doctor for those who live in this ultra-modern workers' paradise.
But what caused her predecessor to go on a shooting spree that made headlines around the world?
As Paul investigates, he begins to uncover a thriving subculture of crime that is spiralling out of control.Both novel of ideas and complex thriller, `Super-Cannes' is an extraordinary satire from the author of `Empire of the Sun', `The Drowned World' and `Crash'.This edition is part of a new commemorative series of Ballard's works, featuring introductions from a number of his admirers (including Robert Macfarlane, Hari Kunzru, James Lever and Zadie Smith) and brand-new cover designs from the artist Stanley Donwood.
Information
Format: Paperback
Pages: 416 pages
Publisher: HarperCollins Publishers
Publication Date: 01/08/2001
ISBN: 9780006551607
Free Home Delivery
on all orders
Pick up orders
from local bookshops
Reviews
Showing 1 - 4 of 4 reviews.
Review by lucasmurtinho
16/06/2015
Bizarre - and somewhere I read this is the most salable Ballard. An engaging plot, but a naïve take on the dire consequences of a world of all work and no play. An interesting comparison can be made with Ian McEwan's apology of the high-class working man in "Saturday". Maybe.
Review by Greatrakes
16/06/2015
This is a book about business and psychopathy. Anyone who has worked in a large multi-national should recognise the inherent truth in Ballard's novel, that the competitive drive of individuals in very large corporations drives not the most competent to the top, but the most psychopathic. In this imagined massive business park in the South of France Ballard's characters are orchestrated by a rouge psychiatrist, Wilder Penrose, into organised violence, sexual indulgence and ultimately random killing. Paul Sinclair the protagonist arrives at Super Cannes as a semi-retired partner of an executive transferred to the site and we follow his story as he tries to unravel the bizarre happenings.Ballard is a genius and this work is a genuine thriller with a brilliant twist at the end.
Review by john257hopper
16/06/2015
My edition of this novel contains gushing praise from critics, and if you have never read other Ballard novels, this indeed comes across as an original and exciting thriller. But unfortunately it is virtually a rewrite of Cocaine Nights. Quite exciting, but definitely not groundbreaking for this author.
Review by Widsith
16/06/2015
A wonderful novel, oozing with millenarian angst and chock-full of Ballard's favourite icons, played from his deck like tarot cards – the Grounded Pilot, the Closed Community, the Unhinged Doctor, the Sexy Car-Crash – with the theme, as always, having to do with the dark poles of <i>eros</i> and <i>thanatos</i> lurking just beneath the veneer of human society.The plot involves Paul Sinclair, a former airman recovering from a plane crash, who accompanies his young wife Jane to an ultramodern business park on the French Riviera, where she is to work as an on-site physician. Paul gets drawn into uncovering the mystery surrounding Jane's predecessor, who went on a killing spree and murdered ten people before being killed himself.At first the place seems paradisiacal, full of rich happy people like something from the 30s – 'a vanished world of Cole Porter and beach pyjamas, morphine lesbians and the swagger portraits of Tamara de Lempicka'. But something is very wrong at the Eden-Olympia complex: in each tiny, everyday detail there is an undercurrent of cheap sex, casual violence, sickness. (It is very Lynchian in that sense: god I wish Lynch would film this.) 'Over the swimming pools and manicured lawns seemed to hover a dream of violence,' we are told at one point; but often the hints are more subtle and unnerving. Innocuous body parts become creepy and upsetting as Ballard describes them:<i>My exposed big toes unsettled her, flexing priapically among the unswept leaves.</i>I love this sentence so much. It makes me laugh at how ridiculous it is, while also making me shudder because it <i>works</i>. There is more lurking menace when Paul and Jane arrive at their new home:<i>The house was silent, but somewhere in the garden was a swimming pool filled with unsettled water.</i>—Actually let me just stop there for a second so we can appreciate that admirable sentence. Doing a lot of work, isn't it! Direct but efficient. Ballard goes on:<i>Reflections from its disturbed surface seemed to bruise the smooth walls of the house. The light drummed against Jane's sunglasses, giving her the edgy and vulnerable look of a studio visitor who had strayed into the wrong film set.</i>The reference to the movie business is an example of Ballard's tendency to choose his similes and metaphors from the realms of modern technology and celebrity culture. The world of <i>Super-Cannes</i> is not natural but rather scientific, medical: a flag flutters 'like the trace of a fibrillating heart', the sea is 'smooth enough to xerox', every hair on a fur stole is 'as vibrant as an electron track in a cloud chamber', crowds of tourists clump around the shop-fronts 'like platelets blocking an artery'.This is only the third or fourth Ballard novel I've read, but I've never enjoyed his cold, efficient prose style more than I did here. Some writers explore themes; Ballard <i>dissects</i> them, using a scalpel. Like his main influence, William Burroughs, and his main disciple, Will Self, Ballard sees social problems as a matter of pathology: sexual perversion for him is about <i>psychosexual dysfuction</i>; casual violence is about <i>clinical psychopathy</i>. This medicalisation can make for an eerie worldview, but it gives you some descriptive passages you wouldn't get from any other writer. And for once, I genuinely cared about the characters here – I was really rooting for Paul and Jane to get out in one piece.As well as being a mystery story, this is a stonking novel-of-ideas, and the main idea is this: if the modern world is making us all less sociable and more atomised, what might the psychological consequences be? Because the madness and violence at Eden-Olympia are intimately tied to the erosion of community that Ballard sees around him:<i>People find all the togetherness they need in the airport boarding lounge and the department-store lift. They pay lip service to community values but prefer to be alone.</i>Or again:<i>The Adolf Hitlers and Pol Pots of the future won't walk out of the desert. They'll emerge from shopping malls and corporate business parks.</i>I'm not sure I entirely accept Ballard's thesis, or his speculation that 'meaningless violence may be the true poetry of the new millennium'; but then I don't think he does either – it's thrown out there as a way of working with the issues. Watching him at work, scalpel in hand, is disturbing, thought-provoking, and enormously enjoyable.