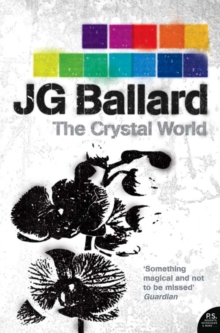 The Crystal World
Paperback
Description
From J. G. Ballard, author of `Crash' and `Cocaine Nights' comes his extraordinary vision of an African forest that turns all in its path to crystal.Through a `leaking' of time, the West African jungle starts to crystallize.
Trees metamorphose into enormous jewels. Crocodiles encased in second glittering skins lurch down the river.
Pythons with huge blind gemstone eyes rear in heraldic poses.
Most flee the area in terror, afraid to face a catastrophe they cannot understand.But some, dazzled and strangely entranced, remain to drift through this dreamworld forest: a doctor in pursuit of his ex-mistress, an enigmatic Jesuit wielding a crystal cross and a tribe of lepers searching for Paradise.In this tour de force of the imagination, Ballard transports the reader into one of his most unforgettable landscapes.This edition is part of a new commemorative series of Ballard's works, featuring introductions from a number of his admirers (including James Lever, Ali Smith, Hari Kunzru and Martin Amis) and brand-new cover designs.
Information
Format: Paperback
Pages: 176 pages
Publisher: HarperCollins Publishers
Publication Date: 17/07/1985
Category: Science fiction
ISBN: 9780586024195
Free Home Delivery
on all orders
Pick up orders
from local bookshops
Reviews
Showing 1 - 2 of 2 reviews.
Review by tikitu-reviews
16/06/2015
From mentioning Ballard to a couple of friends, it seems I don't have the same associations with him that many others do. This is the Ballard that I know and love: magic realism, a strong but unspecified religious underpinning, and the story plays out in lush jungle which bulks large in the internal lives of the protagonists.It's not about sex.As a science fiction writer (of a sort), what sets Ballard apart from the golden age giants is his priorities: the science-fictional element (perhaps more appropriately in this case --and despite the pseudoscientific jargon-- the intruding magical element) is put to work as a metaphor for the internal lives of his protagonists. He's a bit heavyhanded about it -- there's a fair bit of tell-not-show contributing to that judgement, and I'd have to reread the novel carefully to be able to see whether I would have drawn the same conclusions if the protagonist hadn't quite explicitly pushed them at me. Still, the otherworldly element is in the service of character, rather than the characters serving to explore and report on the otherworldly element.The novel has a pulpy feel in high contrast to <i>Empire of the Sun</i>. This isn't just the science fictional elements; the chief failings are a terribly wooden characterisation for almost all the supporting characters and a rather hard to swallow protagonist. This is perhaps why I'd characterise this as science fiction instead of magical realism; not that all science fiction has these failings, but I recommend <i>The Crystal World</i> despite its failings, for a very science-fictional reason: the idea is lovely. More, the idea and the way it's described is lovely. If you can make that disconnect between literary content and imaginative content (a juggling act that is sadly often required to enjoy science fiction), you'll find <i>The Crystal World</i> rewarding. If the form matters too much to forgive some lapses of style, you're best avoiding it.
Review by john257hopper
16/06/2015
Not taken with this one. An interesting central idea but for me poorly executed and the characters and their reactions seemed other worldly, not in an interesting way as in High Rise.