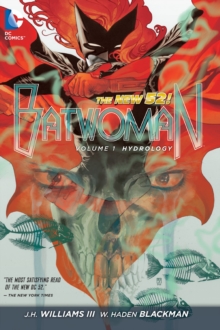 Batwoman Volume 1: Hydrology TP
Paperback
Description
As a part of the acclaimed DC Comics - The New 52 event ofSeptember 2011, Batwoman's new series finally begins!
The creative team of J.H. Williams III and W. Haden Blackman launch the ongoing Batwoman series, asBatwoman (a.ka.
Kate Kane) faces deadly new challenges in her war against GothamCity's underworld - and new trials in her personal life.
Who or what isstealing children from the barrio, and for what vile purpose?
Will Kate trainher cousin, Bette Kane (a.k.a. Flamebird), as her new sidekick? How will shehandle unsettling revelations about her father, Colonel Jacob Kane? And why is acertain government agency suddenly taking an interest in her?
These are some ofthe questions that will be answered in this long-awaited series!
Information
Format: Paperback
Pages: 144 pages
Publisher: DC Comics
Publication Date: 22/01/2013
Category: Superheroes
ISBN: 9781401237844
Free Home Delivery
on all orders
Pick up orders
from local bookshops
Reviews
Showing 1 - 2 of 2 reviews.
Review by shanaqui
16/06/2015
So here I am, jumping into another New 52 title. I was mostly interested in Batwoman/Kate Kane because I know she's a lesbian, but I knew very little else about her, so it was a bit tough to just jump right in here, even though the New 52 is supposed to be a reboot.I enjoyed it, though; I like that in contrast to what I normally think of when I think of the Batfamily, without supernatural elements, here we've got Kate Kane basically going through an episode of Supernatural. It's interesting reading that at the same time as I'm getting into Batgirl -- and I like that there's plenty of stuff around in Kate's normal life, too. More than Batgirl's, maybe; I got more of a sense of the wider world surrounding Kate, anyway.The art looks really cool; I love the red/black look Kate's got going on.
Review by sweetiegherkin
10/11/2015
Kate Kane is juggling taking her cousin under her wing, hooking up with a new lover, avoiding her dad, and, oh yeah, being Batwoman. Batwoman is on the case trying to track down some children who have gone missing under supernatural circumstances and is meanwhile herself being pursued by the Department of Extranormal Operations, who are dying to find out her real identity. After having read <I>Batwoman: Elegy</I> when it came out, I was immediately in love with the new approach and backstory to Batwoman. This addition follows in the same vein and doesn't disappoint. The story isn't really self-contained, although there is enough of an introduction to catch new readers up to speed. However, this book ends with part of the mystery very much still up in the air for the next edition to pick up. In addition, there's a lot of crossover material going on here, so the better versed the reader is in the DC Universe, the more he or she will grasp of the nuances of character and etc. Still, all in all, this made for an entertaining, fast-paced read that developed characters and had a number of interesting storylines. As with <I>Batwoman: Elegy</I>, J.H. Williams III once again stuns with his illustrations, creating gorgeous spreads that make use of realistic drawings, dynamic action shots, brilliant colors, and unique panel displays (including a few bat-shaped panel arrangements). Even if the story were awful, this book would be worth picking up for the illustrations alone. Luckily, the reader is treated here to both a compelling story and gorgeous artwork.