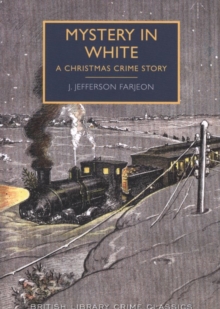 Mystery in White : A Christmas Crime Story
Paperback
Description
'The horror on the train, great though it may turn out to be, will not compare with the horror that exists here, in this house.' On Christmas Eve, heavy snowfall brings a train to a halt near the village of Hemmersby.
Several passengers take shelter in a deserted country house, where the fire has been lit and the table laid for tea - but no one is at home. Trapped together for Christmas, the passengers are seeking to unravel the secrets of the empty house when a murderer strikes in their midst.
Information
Format: Paperback
Pages: 256 pages
Publisher: The British Library Publishing Division
Publication Date: 01/11/2014
Category: Classic crime
ISBN: 9780712357708
Free Home Delivery
on all orders
Pick up orders
from local bookshops
Reviews
Showing 1 - 4 of 4 reviews.
Review by Meredy
16/06/2015
Six-word review: Classic mystery wrapped in red bow.Extended review:>128 [Mystery in White] came in for me at the library just in time. I started it the day it started, December 24th, and finished it when it ended, on Christmas night. Things can sometimes work out perfectly when you arrange them that way.This new paperback edition draws you in immediately with a delightfully atmospheric cover painting of a stalled train like the one from which our cast of characters escapes on foot through a blizzard. They find a mysteriously empty house with the fires burning and the teakettle aboil. And a menacing presence that soon points to murder.The story is a thoroughly enjoyable classic Golden Age mystery, set in a snowbound English country house, and just right for filling those odd little nooks and crannies of time over a busy holiday. Most of the characters are absurd, but the principals are charming and likeable, especially young Lydia and Jessie the chorus girl. The premise requires one's sense of the probable and the plausible to show considerable elasticity; and even at that, the ending is a stretch. But that doesn't matter. Even though a story like this is set in the known material world, without the intervention of magic and supernatural forces, it doesn't do to be too exacting about realism. Don't come here to appease your logical faculty but to satisfy your appetite for a lightweight escapist adventure in an appropriately creepy setting, with a helping of seasonal spirit to brighten the mood.
Review by reading_fox
16/06/2015
Entertaining enough but nothing special. A Poirot style feel to it, but set in the English countryside - unspecified - between the wars, as social change was just spreading through the nation. A train becomes snowbound and one carriage full of passengers elect to depart (de-train) to a nearby station in hope of making their important connections there. But the snow is so deep (unprecedentedly so in the UK) that they get lost and end up at a house - open and welcoming with fires burning and tea laid out waiting, but no occupants. The Snow gets so deep that it's obvious no-body could be travelling, and so they make the best they can of their situation. Between the young things and a portentous Old man they begin to discover some of the secrets.Enjoyable at Christmas time especially to fans of the Christie style of writing. The characters are all a bt one dimensional but the interactions work well, and the basic plot is intriguing and well set up. Ideal for a lazy evening by the fire.
Review by infjsarah
27/08/2015
Entertaining enough if a bit odd in places. A pleasant way to spend a few hours if you like old fashioned crime stories but probably instantly forgettable.
Review by DeltaQueen50
27/01/2016
I enjoyed my read of Mystery in White by J. Jefferson Farjeon. Set over Christmas Eve and Christmas Day, this story, originally published in 1937, is about a small group of travellers whose Christmas plans get badly interrupted when their train gets stuck in the snow. Hoping to cut across the country to a small railroad station and get a different train, they set out only to find the blizzard-like conditions are impossible to deal with. Finding a house where they can shelter in, seemed like a miracle.They enter a large country house, with fires set, kettles on the boil and the table set for tea, yet no one is home. This is just the first disturbing thing about this house. With a creepy atmosphere and strange things happening, there are chills and tension aplenty leaving the reader wondering whether there is a live murderer (or more) wandering around or if this could be something supernatural. Unfortunately, the book couldn't sustain it's excellent plotting and the last third of the book was over-done, dated and melodramatic. I was quite disappointed as I really liked the book up to that point.I suspect it is the last third of the book that has kept it out of the public eye for the last 75 or so years. Nevertheless, I am glad to have had a chance to read J. Jefferson Farjeon and if the opportunity arises again, I would certainly like to sample more of his work.
Also in the British Library Crime Classics series | View all