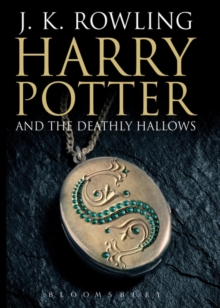 Harry Potter and the Deathly Hallows
Hardback
Description
'His hand closed automatically around the fake Horcrux, but in spite of everything, in spite of the dark and twisting path he saw stretching ahead for himself, in spite of the final meeting with Voldemort he knew must come, whether in a month, in a year, or in ten, he felt his heart lift at the thought that there was still one last golden day of peace left to enjoy with Ron and Hermione.' With these words Harry Potter and the Half-Blood Prince draws to a close. And here, in this seventh and final book, Harry discovers what fate truly has in store for him as he inexorably makes his way to that final meeting with Voldemort.
In this thrilling climax to the phenomenally bestselling series, J.K.
Rowling will reveal all to her eagerly waiting readers.
Information
Format: Hardback
Pages: 608 pages
Publisher: Bloomsbury Publishing PLC
Publication Date: 10/02/2007
Category: Fantasy
ISBN: 9780747591061
Other Formats
Paperback from £7.69
Hardback from £12.99
Book from £22.79
CD-Audio from £55.29
Free Home Delivery
on all orders
Pick up orders
from local bookshops
Reviews
Showing 1 - 5 of 18 reviews.
Previous | Next
Review by afterthought
16/06/2015
28/7Will Harry die in the end? Is Dumbledore really dead? How many more will perish?These were some of the questions that swam in my head after I'd finished book 6 (which was only a month ago *sheepish) and when I'd got my hands on book 7 mid of last week, not a moment was wasted. Any free time slots I could squeezed out from my schedule - lunch hours at the office, book-dinners replaced tv-dinners..you get the drift - were spent engrossed in the pages.*****minor spoilers ahead*****If you think book 6 was dark, book 7 is darker still. The first chapter itself speaks of the death of a great auror, and subsequent chapters are no different. It's as though pain, sufferings and deaths have become a daily thing in the magical world of Harry Potter. Only comfort this time around is there's something readers can cling on to - a glimmer of hope that Voldermort can finally be stopped through the Horcruxes - and with that we accompany Harry, Ron, and Hermione on their quest to stop He-Who-Must-Not-Be-Named (his name became a taboo halfway through the book). We are with them throughout their tears, their fears, their anger, their arguments, their losses, their gains and discoveries, their joy and jubilations. It feels like we are growing and maturing with them every step of the way. Together we learnt about Dumbledore's lifestory (his moments of weakness, his regrets, and how he became who he was), but most touching of all, Snape's story is revealed. He is definitely one book that should not be judged by its covers..behind the oily hair and cold demeanor is a person whose loyalty to love must be applauded. Imagine all the risks he had to go through, all the hatred he had to take in..All in all, a great read with well-written plot. Rarely were there dull moments as it was action-driven right from the start climaxing in the final battle, explosions and all. Like a jigsaw puzzle, all things are put into perspective with the final piece put in place 19 years later ;)Guess the only thing to look forward to now is the movies. For the greater good *winks, hopefully their storylines will not be cramped and rushed as though in fast forwarded mode. That's the one thing I felt when watching Harry Potter & the Order of the Phoenix but well...that'll be in another review =P30/7I would like to add this after going through the reviews posted. There were disappointments with how the ending turned out, how some characters were never fully explored, how the epilogue just isn't suitable among others. Well, nothing is perfect, right? Sure there are flaws, some questionable deaths/actions/decisions, things we would have wanted to turn out differently...However, I believe Harry Potter was meant to be a children's story to begin with (otherwise why the need for children/adult covers and not just adult's?) and it sure ended like one too where albeit the sadness/tragedies, good always triump over evil, love conquers all, and real friendships withstand even the toughest times. Aren't all those the beliefs we would like kids to grow up in? To believe that after the darkest hour, the glorious sun always rises? Thus, let the child in you read the book rather than the skeptical/cynical minds of adulthood, and you might just learn to appreciate with an innocence long forgotten ;)
Review by Jannes
16/06/2015
Following the Potter series has been like watching a slow-motion train crash, and with this book it all comes grinding to its horrendous conclusion.I actually enjoyed the first three Harry Potter books quite a lot: they where fun and lovable, with just the right mix of danger and cozyness to draw the twelve year-old me in, but each following I liked a bit less. Each volume got a little longer, less focused, more convoluted, more unbelievable. Stupider, you might say. Too much filler and endless repetition, and none of the joy and discovery that made the first book so good. The final book of the series continues in this vein.The simple fact is this: "Harry Potter and the Deathly Hallows" is not as much a novel as a huge block of text. The plot barely hangs together, and the characters and their actions are so inexplicable and undistinguished that you tend to forget who says and does what. And it just goes on. And on. And on. A long list of events does not a novel make. A good editor would have cut at least one third of the book before the second draft since so much of it is completely irrelevant and provides nether plot, nor mood, nor anything else what so ever.The "action" scenes are incredibly awkward and unexciting, and the drama is cringe-inducing sappy and sentimental. Everything is flat, and there's not a real spark of life to be seen anywhere in the characters. Maybe Rowling has had it too easy - I could see how one might get lazy when all you have is to write "and then person X died" to tear up a storm of emotion aiming your readers. The quality of writing is in fact surprisingly low, and the text is full of odd pacing, strange phrasing that makes it look, for lack of a better word, unpolished. Maybe Rowling was sick of the whole thing. I know I am.
Review by callosum
16/06/2015
Collected the book this morning (21/7/07) at 8 o'clock. Was in a hurry to get it because it just so happened I was flying off to Thailand for a weekend trip the same day HP7 came out. Read lots of it on the plane, in the airport while waiting for the highly inefficient immigration to clear, a bit at a bookshop (the bookshop's copy) and finally finished the rest at the hotel tonight.I was a bit annoyed with HP6 when it came out because it seemed that Harry was left with a lot to do – destroying all the remaining horcruxes. It seemed like enough for at least 5 more books given the trouble Dumbledore had locating just one. This book did turn out to be a lot of rushing around for Harry, Ron and Hermione, which made it seem a bit disjointed. It also pulled in a new plot element, the Deathly Hallows, which make their owner the master of death, which seemed to make things all the more complicated. But they were fairly efficient about their work and made quite a bit of progress.It was said that two major characters would die in this book and really a lot more important characters do, though perhaps they aren't starring characters. It was very sad in bits, though J.K. Rowling's characteristic humour shines out from time to time throughout. Her message that love and loyalty conquer the deepest magic gets emphasised once more in Harry's last outing.I won't give too many spoilers away here, but I will note that many of the predictions Harry Potter fans made in run-up books etc were quite accurate. J.K. Rowling dropped quite a lot of clues in the previous books – though I, having merely skimmed through the books to know what happened rather than dissecting every page, would have had a very hard time putting them together to find out how it would have ended. The plotting was pretty clever, but I felt there were still a few unanswered questions at the end. Some of them could perhaps be answered with a closer reading, but at least one goes completely unaddressed, I feel sure.Nevertheless, a worthy and satisfying conclusion to the Harry Potter series. At last, we know what happened! Phew, no more waiting years for the next book anymore.
Review by lewispike
16/06/2015
A review that doesn't act as a spoiler...Let's just say it's a fitting and not all together surprising climax to the story cycle.To the discerning reader very few shocks, a couple of twists that we suspected rather than known in my case, but basically it was all pretty much as expected. Despite that, a fun romp, handled with her usual style and gusto.Much like "Half-blood Prince" there are definitely parts in this where J.K. has been influenced by seeing her books on the screen, and you watch the cinematic story-telling emerge.
Review by LadyN
16/06/2015
In this book, Rowling brings her much-loved series to a thrilling climax. From it's humble beginnings as a relatively gentle tale of a celebrated boy wizard, the books have come of age, developing ever more complex and thought provoking concepts.From the outset we have death in mind, hanging over us like a shadow, thanks to the inclusion of themed quotes from Penn and Aeschylus. A haunting introduction to what we know is Harry's final battle, whatever the outcome may be. And the tone does not lighten for quite some time, brilliantly creating the air of tension and uncertainty which has been ever descending on this world for some time. In Deathly Hallows, Harry gradually finds himself without several things he has previously believed he relied upon, the truth growing ever more apparent that his true magic is drawn from friendship, loyalty, protection, courage and the pursuit of what is right. As always, Rowling's characters are three-dimensional, and cover the spectrum of humanity, representing every shade of the human condition. Harry, Ron and Hermione have grown into a perfect blend of different facets, which is beautifully demonstrated when each answers the same question at the same time but with different of three possible answers.While the danger and conflict become ever more threatening, so the wizarding world is faced with new challenges, new levels of violence and new truths to discover about themselves and the world in which they live, not to mention old truths we would all rather not have to face - the loss of innocent lives during times of war, the stained pasts of those we count as heroes, and that to be selfless is sometimes the biggest challenge of all.Amongst the destruction are moments of absolute joy - one of Rowlings indesputable strengths is her blend of humour amongst despair, sometimes uncomfortably married together, but always expertly placed, so that one can at once be crying and laughing, anxious and amused.We will miss awaiting news of Harry's next adventures, indeed many of our questions over the last ten thrilling years have now been answered. We can however rest assured that this story will be visited over and over again, in the imaginations of children and adults alike. And of course, just because it's in our heads, doesn't make it any less real ;-)