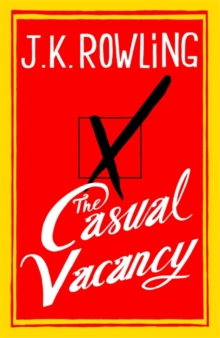 The Casual Vacancy
Hardback
Description
When Barry Fairbrother dies in his early forties, the town of Pagford is left in shock.
Pagford is, seemingly, an English idyll, with a cobbled market square and an ancient abbey, but what lies behind the pretty facade is a town at war. Rich at war with poor, teenagers at war with their parents, wives at war with their husbands, teachers at war with their pupils...Pagford is not what it first seems. And the empty seat left by Barry on the parish council soon becomes the catalyst for the biggest war the town has yet seen.
Who will triumph in an election fraught with passion, duplicity and unexpected revelations? A big novel about a small town, The Casual Vacancy is J.K.
Rowling's first novel for adults. It is the work of a storyteller like no other.
Information
Format: Hardback
Pages: 512 pages
Publisher: Little, Brown Book Group
Publication Date: 01/09/2012
ISBN: 9781408704202
Free Home Delivery
on all orders
Pick up orders
from local bookshops
Reviews
Showing 1 - 5 of 14 reviews.
Previous | Next
Review by soradsauce
16/06/2015
While I know that saying JK Rowling is a good author is contentious in proper literary groups, I honestly believe she is a good writer. However, I think one of the main complaints I had with this book is that she seemed to try a little too hard to veer off the path of writing for children. With explicit details of rape; extensive discussion of paedophilia; domestic abuse of all sorts; and adultery; I feel like the little town of Pagford is pertty much a sampling of all of the vices of humanity. Though, Harry Potter was extremely dark to be marketed as children's literature, and dealt with hard issues as well, so it's entirely possible that JKR is just a lot darker that I originally assumed. What I loved about the book is, literally, everything else. Rowling's characters are vivid, and, while they make some strange decisions, completely relatable. You feel that you're reading a book of gossip about real people that you know, instead of a novel with fictional characters. Her use of third-person omniscient narrative style, and her George RR Martin-esque focus on different characters for the same events or timeframes was highly effective. It felt as though I was in Pagford, Yarvil and the Fields, and I hardly wanted to put the book down. Rowling's ability to write accents is also pretty amazing - while I did initially hear the accent heard in the Fields as Hagrid, I eventually heard the West Country drawl every time she wrote in that way (and to be fair, Hagrid did sound like he was from the West Country as it was).This book didn't have many "oh my god that is beautiful" sentences - things that are quotable and can be taken out of context as simply a beautiful sentence - but it was solidly written, and had some moments that were exceptionally vivid. Rowling has always been good at creating worlds out of words, and this was no different. Her vocabulary and short, simple sentences evoke a huge level of detail - you can always see Howard's gut as he "bumps off opposing walls" or hear the floorboards squeak underneath him. As we saw in Harry Potter, Rowling is exceptionally good at writing fat people. :)Overall, I thought this was a fantastic book, and I know you're never supposed to convolute the author with the story, but I feel that she brought in a lot of autobiographical stuff to electrify the world - living in poverty, teenage pregnancy, drug use, being an outcast, domestic abuse, and probably a lot more. Solidly written, enthralling story, beautiful imagery. 4/5.
Review by Mikalina
16/06/2015
When councillor Barry Fairbrother dies, the political balance at the local Parish Council is threatened, and at a critical time as it is; The fight is on, to get rid of all responsibilities of the (Sweetlove´s!) Fields, an estate that houses most of the communities` poor. Krystal Weedon is the character from Fields that we follow; and one of the crucial question that follows the reader through the book is what will happen to her; Will the promise of Krystal Weedon be cut, because of the untimely death of Barry Fairbrother? Such a waste that would be: she is definitely a will-be-something - in a fairer world - that is. Is there a crown-prince among Fairbrother`s followers that can replace him? Can Parminder transform her angry loves and hates to something constructive? Can Cubby´s obsessive-compulsive manners give but a feeling of impotence? Can a new fair-brother be found among Barry´s political opponents? Or can some of the opportunistic elements that want to fill the casual vacancy at the Parish Council rise to the occasion? Will any of the contenders to the vacant seat carry with them a sniff of altruism? Of love or understanding of fellowship, husbandry or spirit of service for a common good? Does anyone see in this empty seat, this "magician´s pocket, full of possibilities", something beyond personal gain? Pagford lies there, as an English idyll, shall it continue as one, or has it already become pagan-ford, the crossroad where every each-for-himself meet? Rowling lets the reader within the walls to the runners-up for the seat at the Parish council, lets us meet the contenders to the vacant seat at the Parish Council, their families, friends, work-mates, and shows us what motivates their actions, through the interactions with their nearest The variety is great, both in theme and language, but the selfishness that underpins most of their initial actions is the same. But actions once launched tend to live their own lives. They have unforeseen consequences, often not intended, and sometimes they take the form of a boomerang, or nemesis.... Is this a dark tale? Yes it is. But not without hope. It is not the greed that strike the reader as the foremost propulsive factor, it is pain, a pain that does not respect socioeconomic boundaries: An unwanted adopted boy, an unrecognized youngest child, a girl that was raped at 11, a deeply frustrated woman in a midlife crisis, a man who cannot commit....the list is longer, but the common trait the characters have is that they hide what they see as their particular brand of weakness behind a behaviour that hurts not only themselves, but the people around them. Actions that rebound is a forceful mirror, a light that gives the possibilities of growth.... Hope is but a small bird, and comes sometimes in the strange plumage of a vulgar, frustrated woman with a failing lingerie shop that abruptly sees herself, sometimes it is found in the only not-brilliant child in an Anglo-Indian family of medical doctors living in the old rectory..... Even in the ending there is hope, in the midst of despair we are reminded that the Winterdown´s girl´s rowing team wins not despite being a multiracial, multireligious, multi-sosioeconomical-class team, but because it is. It is Rowling´s way to tell us that if we are to keep the unchangeable evergreen idyll, we must change. Whether this boat is a ship that will float on the river of time, only time will show.To choose the local political combat as a theme for an author that must know that the bulk of her fans are young fantasy-fans is both courageous - and brilliant. To show that the Parish Councils of this world matters at an individual level, and how, in a book as exciting as any crime novel can only be done by a master´s hand. Rowling succeds fairly well with her project. Technically Rowling owes both Charles Dickens (the ghost of yesteryear / Christmas Carol) and Agatha Christie (poison pen) for the means of how the story is driven forward. How she uses this literary device, is totally her own.The underlying structure tells yet another story, a story where her consequent use of names is part of the riddle. Fun - and no less than expected.
Review by APMum
16/06/2015
I was interested to see if JK Rowling could write something different that would entertain me as much as her Harry Potter series. I have to say I was not let down at all. Her characters come off the page as real people who you want to know more about. There is a a wide variety of people that you would expect to find in this setting and the insight into who they are and why they are as they are is very real. I could not put it down and enjoyed the ride that is very much J.K. Rowling's style. She has left me wanting to know more about the people who make up the Town of Pagford, I do hope that she will be writing a sequel.
Review by StephVanRiet
16/06/2015
Really gripping story. I liked how it slowly made you realise which conflicts would arise and where, who would be gossiping about whom, etc. It was nice to be able to anticipate when some of the less likeable characters would get made fun of.
Review by kinsey_m
16/06/2015
Having loved the Harry Potter series (especially from book 4 till 7, not so much the first ones), I was on the one side very curious about J.K: Rowling's first book for adults, but on the other concerned that I might be disappointed. I needn't have worried.This book is still a page-turner, it also creates a world of its own, even if its a very real and not-at-all-magical English village, the characters are deeply compelling. As with Harry Potter, I just couldn't put it down.I have to admit that for the first few chapter, it just seemed like Rowling was throwing any dark subject she could find (drugs, cyber-bullying, self-harm,etc.) into the book, but as the story progresses it all come together. Unlike other people I wasn't shocked by the language. It was the only possible language in the setting and circumstance for those characters.It was interesting to not that although this is J.K. Rowlings "adult" book, teenagers were still at the centre of it, even though the book is certainly not aimed to a teenage audience (or only to very mature teenagers).I would recommend the book to any adults that have liked Harry Potter, as long as they are not expecting another Harry Potter book.