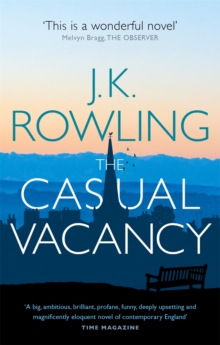 The Casual Vacancy
Paperback
Description
When Barry Fairbrother dies in his early forties, the town of Pagford is left in shock. Pagford is, seemingly, an English idyll, with a cobbled market square and an ancient abbey, but what lies behind the pretty facade is a town at war.Rich at war with poor, teenagers at war with their parents, wives at war with their husbands, teachers at war with their pupils...
Pagford is not what it first seems.And the empty seat left by Barry on the parish council soon becomes the catalyst for the biggest war the town has yet seen.
Who will triumph in an election fraught with passion, duplicity and unexpected revelations?A big novel about a small town, The Casual Vacancy is J.K.
Rowling's first novel for adults. It is the work of a storyteller like no other.
Information
Format: Paperback
Pages: 576 pages
Publisher: Little, Brown Book Group
Publication Date: 18/07/2013
ISBN: 9780751552867
Free Home Delivery
on all orders
Pick up orders
from local bookshops
Reviews
Showing 1 - 4 of 4 reviews.
Review by jessicariddoch
16/06/2015
was finally persuaded to read this, having read books by children's authors meant for adults I did not hold out much hope that this would be any better at being adult than they were. I was however pleasantly surprised as this turned out to be a competently executed literary novel for an adult read. The story line had sufficient twists to keep my interest without being overly complicated and the characters were fully developed adults, what more could I ask for. Had this been written by anyone else it probably would not have made such a splash on the market, but it was a worthwhile read.
Review by wester
16/06/2015
So, now the hubbub has died down a bit, I finally got to reading this.It's quite good, actually. Maybe the introduction of the very large cast of characters gets into the way of the story a bit, especially in the beginning of the book, but you do get a real feel for the town and its inhabitants.However, there are a few details that seem amateurish. Especially the use of parentheses grated me. Doesn't the writer know that parentheses are meant for short asides only, not for two-page flashbacks? It seems unlikely for someone on her eighth book. Or did she do this on purpose? What purpose then?So, good but not brilliant. I'd recommend watching her to see how she grows as a writer, but maybe this particular writer needs some space instead.
Review by Lukerik
16/06/2015
This novel is so good it make me squeak with pleasure. Rowling's so cheeky she deserves a good spanking and I'm the man to give it to her. She mercilessly takes the mick out of us (the English) through the medium of social class. The description of of Howard and Shirley's house, closed off with the comment about the room they call the lounge is beautifully and subtly done. There's some really funny scenes and also some that are really horrific. This is a classic novel. I'm glad I discovered it so soon after publication. We're lucky to have Rowling.
Review by jayne_charles
27/08/2015
Wow, what a good job it is that JK Rowling didn't decide to retire from writing after the Harry Potter series. There is clearly so much more in the tank, starting with all the swear words that weren't allowed in a children's novel. This is gloriously sweary; like a potty-mouthed Maeve Binchy dishing up the gossip. A slice of British life at its ugliest, whilst allowing that nobody is beyond help. Brilliant book, shame there won't be another six in this series.