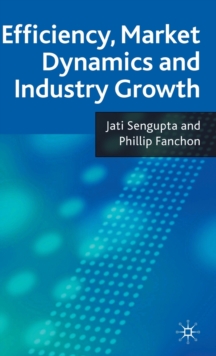 Efficiency, Market Dynamics and Industry Growth
Hardback
Description
The dynamics of industry growth, technology and globalization have a dramatic impact on the current economic growth of nations, significantly changing the market structure and world trade, and challenging the competitive equilibrium and their guiding principles.
In the world of innovations and spill-over of R&D effects, various forms of non-competitive market structures have evolved in recent times.
This book analyzes the new paradigm of change in technology intensive industries, with an emphasis in three main areas; non-parametric models of growth, sources of industry growth and non-competitive market structures in a dynamic framework.
The authors to this volume utilise theoretical and empirical analysis to examine the role of R&D investment and Solow-type technical progress, using the non-parametric methods of efficiency analysis, also known as Data Envelopment Analysis. This book is essential reading for all interested in economic theory and innovation.
Information
Format:Hardback
Pages:164 pages, IX, 164 p.
Publisher:Palgrave Macmillan
Publication Date:29/10/2009
Category:
ISBN:9780230581913