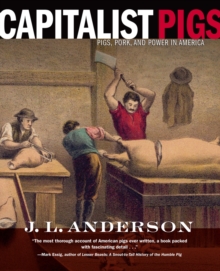 Capitalist Pigs : Pigs, Pork, and Power in America
Paperback / softback
Description
Pigs are everywhere in United States history. They cleared frontiers and built cities (notably Cincinnati, once known as Porkopolis), served as an early form of welfare, and were at the center of two nineteenth-century "pig wars." American pork fed the hemisphere; lard literally greased the wheels of capitalism. J. L. Anderson has written an ambitious history of pigs and pig products from the Columbian exchange to the present, emphasizing critical stories of production, consumption, and waste in American history.
He examines different cultural assumptions about pigs to provide a window into the nation's regional, racial, and class fault lines, and maps where pigs are (and are not) to reveal a deep history of the American landscape.
A contribution to American history, food studies, agricultural history, and animal studies, Capitalist Pigs is an accessible, deeply researched, and often surprising portrait of one of the planet's most consequential interspecies relationships.
Information
Format: Paperback / softback
Pages: 300 pages, 53 illustrations
Publisher: West Virginia University Press
Publication Date: 30/10/2018
Category: History of the Americas
ISBN: 9781946684738