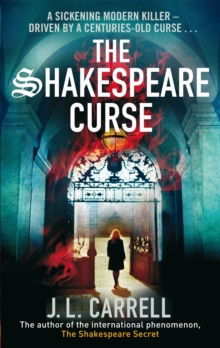 The Shakespeare Curse : Number 2 in series
Paperback
Description
A brutally murdered body is discovered on a remote Scottish hillside - with a mysterious ancient knife beside it.
The victim was a beautiful young woman, throat slashed by an unknown assailant.
The circumstances of the murder suggest ancient Pagan sacrifice. Then a trench on that same hill is found filled with blood.
The shocking discoveries all seem to be linked by the ancient curse of Macbeth. From the streets of New York to the twisting corridors of Hampton Court Palace to a remote loch in the Scottish Highlands, the race is on to stop a deadly modern serial killer who will do anything to uncover priceless ancient treasures... A thrilling, action-packed page-turner, The Shakespeare Curse blends present-day crime with fascinating revelations from the life and work of Shakespeare.
It is one of the most eagerly-awaited novels of 2010.
Information
Format: Paperback
Pages: 512 pages
Publisher: Little, Brown Book Group
Publication Date: 01/01/2010
Category: Thriller / suspense
ISBN: 9780751542226
Free Home Delivery
on all orders
Pick up orders
from local bookshops
Reviews
Showing 1 - 3 of 3 reviews.
Review by Arten60
16/06/2015
Not the sort of book I would usually read but I was intrigued by the title being a fan of the bard. I think there was the sly hint in the novel that the author like myself believed that Shakespeare was not the true author of the works attributed to him. In my opinion I believe it was Francis Bacon but I digress.The plot was excellent I enjoyed the way she wove historical facts into the novel and being a wordsmith I came across a couple of words unfamiliar to me which I put into my dictionary.I could guess at the end that the killer was known to Kate and close to her and I thought it was going to turn out to be Lady Nairn.I give this one 4 stars and will look out for her other novels I feel hooked.
Review by soniaandree
16/06/2015
Well, it certainly does read well, but the quick succession of actions is unnerving. There is a highly wiccan storyline on the forefront, while Shakespeare's 'Macbeth' provides the clues to unravel the mystery. I wouldn't say it compares to the first novel ('The Shakespeare Secret') because it is much less academical and much more esoterical. I had enjoyed the first novel, but this one, I am afraid, just won't do. While the first was merely based on highly known academical feuds in Shakespeariana, this one feels like some Dan Brown pick-n-mix, where everything is thrown into the conspiracy cauldron: John Dee, Shakespeare, black magic and wiccan rituals... Don't get me wrong, this is a good summer read, but nothing more!
Review by shanaqui
16/06/2015
Grabbed this for trashy train reading, since I read the first book, but I hadn't retained enough information about -- or feeling for -- the characters, so that part of the story stayed flat on the page for me. The rest I found rather predictable, though the student-y part of my brain would like to know when exactly the trend of the academic getting caught up in Big Plots started in crime fiction, and with what book... Perhaps I'll do some research into that.<br/><br/>If you enjoyed the first book, it's probably worth picking this one up. As I recall, I didn't think it anything special, and the same goes for this. Also, there's some lazy (non-)proofreading that could and should have easily been fixed. Sigh.
Also in the Kate Stanley series