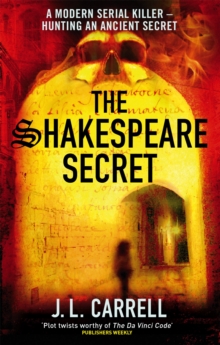 The Shakespeare Secret : Number 1 in series
Paperback
Description
A modern serial killer - hunting an ancient secret.A woman is left to die as the rebuilt Globe theatre burns.
Another woman is drowned like Ophelia, skirts swirling in the water.
A professor has his throat slashed open on the steps of Washington's Capitol building.A deadly serial killer is on the loose, modelling his murders on Shakespeare's plays.
But why is he killing? And how can he be stopped?A gripping, shocking page turner, The Shakespeare Secret masterfully combines modern murder and startling true revelations from the life of Shakespeare.
It has been acclaimed as one of the most compulsively readable thrillers of recent years.
Information
Format: Paperback
Pages: 496 pages
Publisher: Little, Brown Book Group
Publication Date: 10/01/2008
Category: Thriller / suspense
ISBN: 9780751540352
Free Home Delivery
on all orders
Pick up orders
from local bookshops
Reviews
Showing 1 - 5 of 6 reviews.
Previous | Next
Review by phoebesmum
16/06/2015
Publishers are all mad. I used to work in publishing, and even I don't understand them. This is a decently written, quite tightly plotted little thriller (its main fault is its author's obsession with describing the heroine's every change of clothes in full detail, and her rather wholesale tendency to burn down/blow up the Globe Theatre, University libraries, etc), weaving in all sorts of interesting Shakespearian facts and myths, originally entitled, quite logically, 'Interred in Their Bones' and published under the author's full name. The publishers clearly retitled it to hitch it onto the 'The Da Vinci Code' bandwagon and, thereby, tarred it with the same brush. It may – possibly did - have improved sales, but a decent publicity campaign (and the customary huge bribes to the major bookshop chains) would have achieved the same end. Anyway! A ripping yarn, and hugely enjoyable.
Review by heidijane
16/06/2015
Ok, not great literature, but a great story, and the historically accurate research about Shakespeare was fascinating. Also an enjoyable story, with lots of twists and turns...although it got increasingly far-fetched towards the end.
Review by cameling
16/06/2015
The Shakespeare Secret by Jennifer Lee Carrell grabbed me from the get go. It had all the elements I enjoy - suspense, thrills, mystery and how can you go wrong when this is centered around the continued controversy in some circles over the 'true' writer of Shakespeare's plays?What keeps you turning the pages though is not just that there appears to be a serial killer who is systematically killing everyone who has letters, documents or specific books on Shakespeare that could shed light on the true author, but also the many twists that will keep you changing your mind as to the identity of friends and fiends, victims and villains. Oh...what fun.
Review by Apolline
16/06/2015
In this book you get to know Kate Stanley, a post-doctorate academic specialized in Shakespeare, now a director of Hamlet at the Globe in London. The murder of her old mentor, drags Kate in to a race where her own life and a long lost Shakespeare play is at stake.This book turned out to be quite a page-turner, reading so fast I lost track of theories and plot turns a few times. This may also be a result of my poor knowledge of Shakespeare's magnificent works (yes, I do admit never to have read any of his plays, though this might be like swearing in church. Though I've seen The Merchant of Venice at the theater, a film theater version of Hamlet, and of course Romeo & Juliet with Leo and Claire!). There's one thing that sort of bugs me with these kinds of book, the hero/heroine is always so bloody smart. Have you ever seen an episode of Grey's anatomy or House, where the interns shouts out all kinds of diagnosis along with a good justification for it? They're all so smaaaart and you almost feel stupid for not thinking about it too, though there's no reason you should actually know this in the first place. The main character in this book, Kate, is one of these really smart heroines, but one of her biggest flaws is being so naive. There's a murderer out there trying to kill her, and she just trusts everybody.To put is short, if you don't like conspiracy theories and "out of this world clever" heroes/heroines, don't read this book. But if you're up for some excitement and like a good, high-speed mystery, you're in for a treat.
Review by jessicariddoch
16/06/2015
not my normal sort of book, but it did get to me. I wanted to read to the end, I cared about what happened at the end. i read sf so I can believe anything for the course of a book
Also in the Kate Stanley series