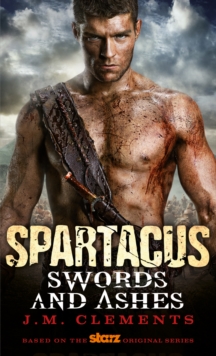 Spartacus - Swords and Ashes
Paperback
Description
Some Legends are Written in Blood! Spartacus is the hit TV show which combines blood-soaked action, exotic sexuality, villainy and heroism.
This original novel from the world of Spartacus: Blood and Sand tells a brand- new story of blood, sex and politics set in the uncompromising, visceral world of the arena.
The gladiator Spartacus, the new Champion of Capua, fights at the graveside of a rich man who was brutally murdered by his own slaves.
Seeing an opportunity, ambitious lanista Quintus Batiatus plots to seize the dead man's estate.
In the arena blood and death are primetime entertainment.
But not all battles are fought upon the sands...
Information
Format: Paperback
Pages: 320 pages
Publisher: Titan Books Ltd
Publication Date: 03/01/2012
Category: Myth & legend told as fiction
ISBN: 9780857681775
Free Home Delivery
on all orders
Pick up orders
from local bookshops
Reviews
Showing 1 - 1 of 1 reviews.
Review by VincentDarlage
16/06/2015
This wasn't too bad. I wouldn't have named the antagonist Verres when one of the protagonists is named Varro, but that may just be me. A bit slow at the start, but it had a decent end, but on the whole in keeping with the series. And that may well be the problem with the book - because it takes place in the midst of the series (after Spartacus summoned the rain but just before Sura arrives), nothing can happen that changes the situation for any of the characters - they cannot leave the story any better or any worse off than they came in because the book cannot be made necessary to the show. Any growth or character arc must, perforce, be on characters not seen in the show - which isn't why one picks up a book based on a show! Still, the author captured the sounds and personalities of the characters, and the tone of the show fairly well.