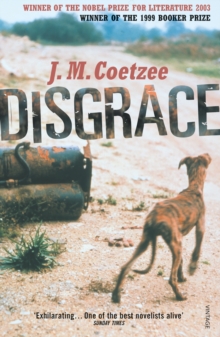 Description
After years teaching Romantic poetry at the Technical University of Cape Town, David Lurie, middle-aged and twice divorced, has an impulsive affair with a student.
The affair sours; he is denounced and summoned before a committee of inquiry.
Willing to admit his guilt, but refusing to yield to pressure to repent publicly, he resigns and retreats to his daughter Lucy's isolated smallholding.
For a time, his daughter's influence and the natural rhythms of the farm promise to harmonise his discordant life.
But the balance of power in the country is shifting.
He and Lucy become victims of a savage and disturbing attack which brings into relief all the faultlines in their relationship.
Information
Format: Paperback
Pages: 224 pages
Publisher: Vintage Publishing
Publication Date: 06/04/2000
ISBN: 9780099289524
Other Formats
Paperback from £6.55
Hardback from £15.09
Free Home Delivery
on all orders
Pick up orders
from local bookshops
Reviews
Showing 1 - 5 of 16 reviews.
Previous | Next
Review by SqueakyChu
16/06/2015
I found this book to be terribly depressing but a good story nevertheless. David Lourie, a university professor in South Africa convinced one of his students to sleep with him. However, following that episode, she had some regrets with the outcome of that being Lourie's losing his job. Being divorced, he headed to his daughter Lucy's smallholding to stay with her for a while. Trying to accustom himself to Lucy's lifestyle and learning to accept Lucy's neighbors and friends was a difficult adjustment for him. It was sad to follow Lourie's fall from grace and watch as he tried to bring the fragments of his life together. His hopes of making a difference in his daughter's life did not work out well either. The best part of the book for me was the beginning as I felt that was the most touching part of the book. It was such a helpless feeling, though, to see a person make one poor choice that eventually affected his whole life. I became increasingly distraught as I watched Lourie interact with his daughter and followed her fall from grace as well. Set in the changing society of black and white South Africa, this family story seemed outwardly kind of quiet, but I found great rage beneath the sofly spoken words of its text.
Review by MrW0lf
16/06/2015
I enjoyed reading it, but I struggle to see what made it a winner.
Review by Niecierpek
16/06/2015
A very sober look at post-apartheid South Africa, and in a broader meaning, post colonial world. Excellent writing.
Review by writestuff
16/06/2015
.M. Coetzee's novel Disgrace explores the ideas of race, gender and generational differences. In simple, yet powerful prose, Coetzee develops his main character - a professor of communications named David Lurie - amid the social and political complexities of South Africa.David Lurie is a middle aged man of questionable morality, whose passions lie with young women...girls, really. When he begins an affair with one of his students - the beautiful Melanie - David finds himself on the other side of a sexual harassment investigation. He retreats to his daughter Lucy's farm in the country where terror and unexpected violence unfold.Throughout the novel, Coetzee intersperses the poetry of Byron, and the tangled life of this poet as he pursues a girl much younger than himself. David Lurie's desire to write an opera about Byron and his lover is largely symbolic of David's own struggle within himself.In fact, the novel's largest theme seems to be about the confusing nature of language - filled with misunderstanding, second meaning, and the breakdown of communication - specifically that between the sexes, the generations, and the races. It is clear throughout the book that David's perceptions, as a man, are different from Lucy's (or Melanie's) female perceptions; and that David's understanding of African culture as a white man, are different from the black Petrus (who lives on Lucy's land). David's struggles to communicate and connect with his daughter are fraught with misunderstanding.Coetzee won the Nobel Prize in Literature in 2003 - and it is easy to see why after reading Disgrace. His style is spare and shocking, and the novel is not one that a reader can put down and forget.Highly recommended; rated 4.5
Review by emerald_rosepetals
16/06/2015
Unlike most people (especially other women) who have read Disgrace, I actually quite liked the main character, David. I felt i couldn't feel hatred towards him, as the book is written in a wonderful way that the narrator blends in with his own thoughts and so I could understand his point of view. I thought it showed well, how such taboo events like teacher/pupil relationsips are not how they are outwardly (and sometimes wrongly) percieved within society.