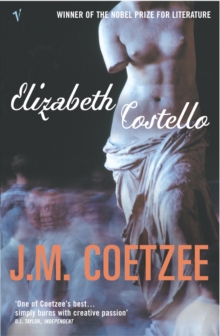 Elizabeth Costello
Paperback
Description
Elizabeth Costello is an Australian writer of international renown.
Famous principally for an early novel that established her reputation, she has reached the stage where her remaining function is to be venerated and applauded.
Her life has become a series of engagements in sterile conference rooms throughout the world - a private consciousness obliged to reveal itself to a curious public: the presentation of a major award at an American college where she is required to deliver a lecture; a sojourn as the writer in residence on a cruise liner; a visit to her sister, a missionary in Africa, who is receiving an honorary degree, an occasion which both recognise as the final opportunity for effecting some form of reconciliation; and a disquieting appearance at a writers' conference in Amsterdam where she finds the subject of her talk unexpectedly amongst the audience.
She has made her life's work the study of other people yet now it is she who is the object of scrutiny.
But, for her, what matters is the continuing search for a means of articulating her vision and the verdict of future generations.
Information
Format: Paperback
Pages: 240 pages
Publisher: Vintage Publishing
Publication Date: 02/09/2004
ISBN: 9780099461920
Free Home Delivery
on all orders
Pick up orders
from local bookshops
Reviews
Showing 1 - 3 of 3 reviews.
Review by Petroglyph
16/06/2015
Interesting. The narrative here functions as a framing device for several lectures / monologues that, if I understand correctly, were written and/or presented before the story came together. And so we get a series of spirited discussions on meat-eating, censorship, the African novel and so on. All of it knee-deep in literary allusions and informed by a literature-heavy views on beauty, truth and the meaning of life. Much of the pleasure of this book is to read a talented professional's musings on novels, novel-writing and literature in general. Unfortunately, <i>Elizabeth Costello</i> is very much a writer's book, a novel written for writers or lit-crit majors. I suppose that there's plenty here for non-specialists to enjoy, but I wouldn't recommend this book to anyone who isn't at least mildly interested in an academic or theoretical approach to writing. Coetzee lost me towards the end, I must admit. While I do have some background in literary studies (limited though that may be), and I was able to hang in there for the most part, the final chapter and the post-script letter I just didn't get. I had to look those up to understand what Coetzee was trying to get at. Which might not be a bad thing in and of itself, but it did make this a non-self-contained reading experience for me. But perhaps that was the point. Still, despite the obscure allusions, I found myself looking forward to reading this book. Approached as a set of essays or lectures, this book worked for me. As a novel, much less.
Review by stillatim
16/06/2015
I read this just after it came out, and was pretty disappointed. Having just given it another go... I'm still disappointed. The blurbs are surely ironic: "One of Coetzee's best... an important book, extraordinary... every word counts. Every sentence lives... bracing." It is self-evidently Coetzee's worst, dull, unimportant, pointless. Only a psychologiser of authors could care about this quaquaquaqua novel, though if you're a philosopher you may get something out of the new Coetzee industry, see Mulhall's 'The Wounded Animal' etc... <br/><br/>I would call it an experiment, and you know what? Sometimes, in fact, usually, experiments fail. As essays or short stories the chapters 'Realism' and 'The Humanities in Africa' are pretty decent, and worth reading. It's probably no coincidence that they're the chapters with the most interesting characters and the better arguments (none of the arguments being much good, which I'm sure is the point and so on...) Putting them in with the other stuff is a disservice to those two chapters. <br/><br/>No, not even pretty disappointed. In fact, I'm infuriated that this got printed and put on the Booker long list. Oh well.
Review by martensgirl
16/06/2015
Dear oh dear, my first encounter with Coetzee's work has not been a good one. This book can only very loosely be described as a novel- it is the only book I have read which has even less of a plot than The Finkler Question. Instead, it is series of disconnected philosophical musings. They are beautifully written, but completely pointless.